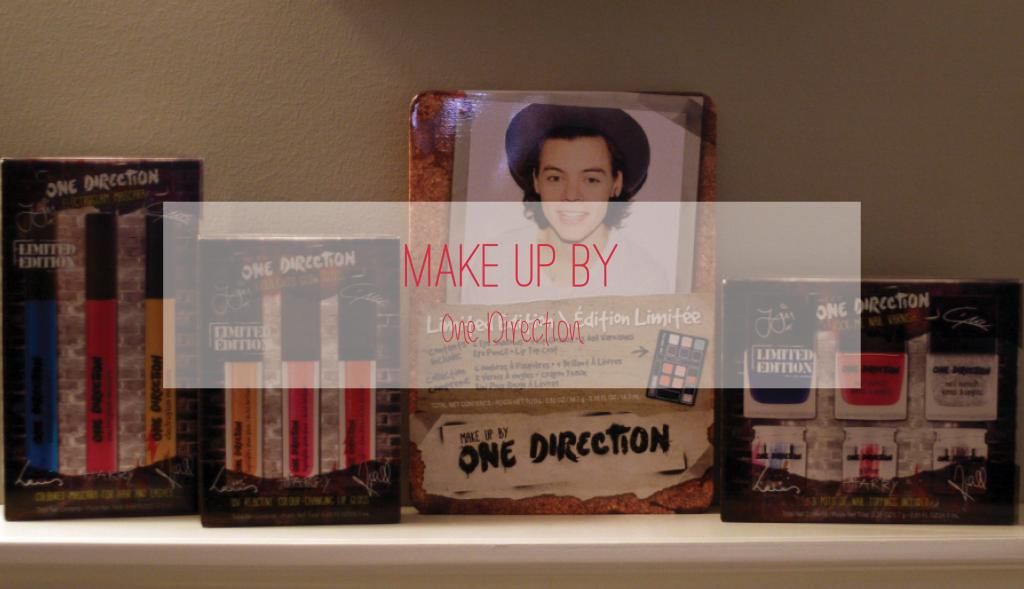 The makeup line is described as follows:
A range of makeup and cosmetic products celebrating youth, style, and the uninhibited lifestyle of a new generation. Celebrating life with bold shades, unique formulae and infused with limited edition collectable packaging, Makeup from One Direction is fun, bold, often irreverent, with a touch of cheeky mischievousness. Offered at prices that every girl and woman can afford.
The first items I received were:
All of these change color in UV light too!
Electro Glam Mascara
This product intrigued me from the start since it was described as a product for either your lashes or your hair:
Give your look a jolt of electric colour, with this limited-edition trio of ultra-bold coloured mascaras for hair and lashes, in three heavily pigmented, buildable colours.
FOR LASHES- Make a subtle statement by adding a pop of colour to the tips of your lashes, or add coats to your entire lashes for a shockingly chic look. The more the better!
AS A HAIR MASCARA- Apply to small sections of hair and swipe through for instant ELECTRIC highlights.
I have always wanted to try out hair paint/chalk so naturally I went the sassy route and tested this out on my nice blonde locks.
It is definitely fun and will be nice to keep around when I feel sassy and want to have a little fun with my hair.
Liquilights Glow Gloss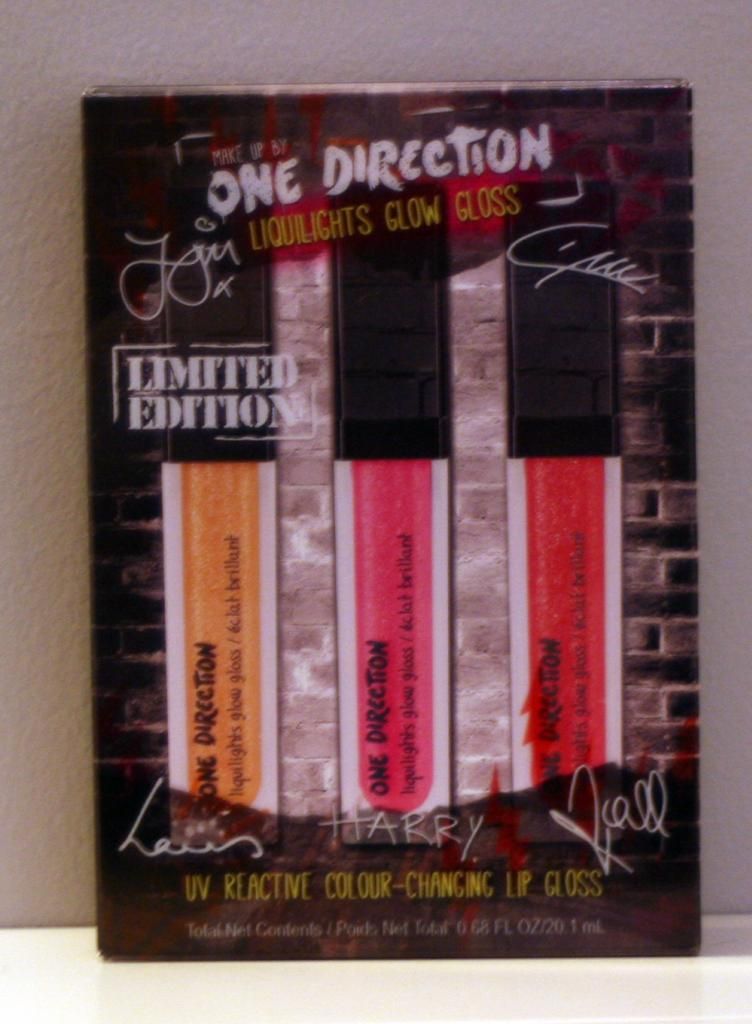 I'm not going to lie, these probably won't get a ton of use by me because of the amount of glitter they have, but for a younger audience I think they are great. They are super pigmented and the colors are really fun!
The product description for this one is below!
Liquilights Glow Gloss sparkles brilliantly during the day and illuminates under UV black light after dark. Enriched with natural oils and vitamin E to keep your lips soft and hydrated all day and all night. Gloss can be worn alone for a pop of sparkle and color, or paired with One Direction crème lipstick for a bolder look.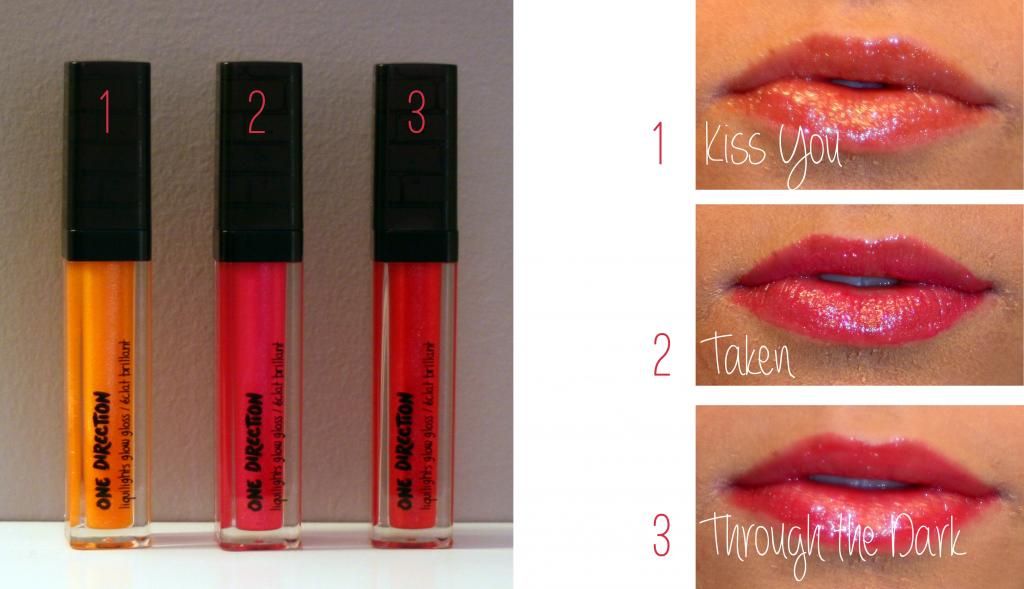 These glosses change color under UV light too:
Through the Dark- Electric glitter poppy lip gloss that glows to neon red-orange under UV light
Kiss You- Orange glitter rush lip gloss that glows to neon yellow under UV light
Taken - Powerhouse glitter pink lip gloss that glows to neon orange under UV light
Rock Me Nail Kit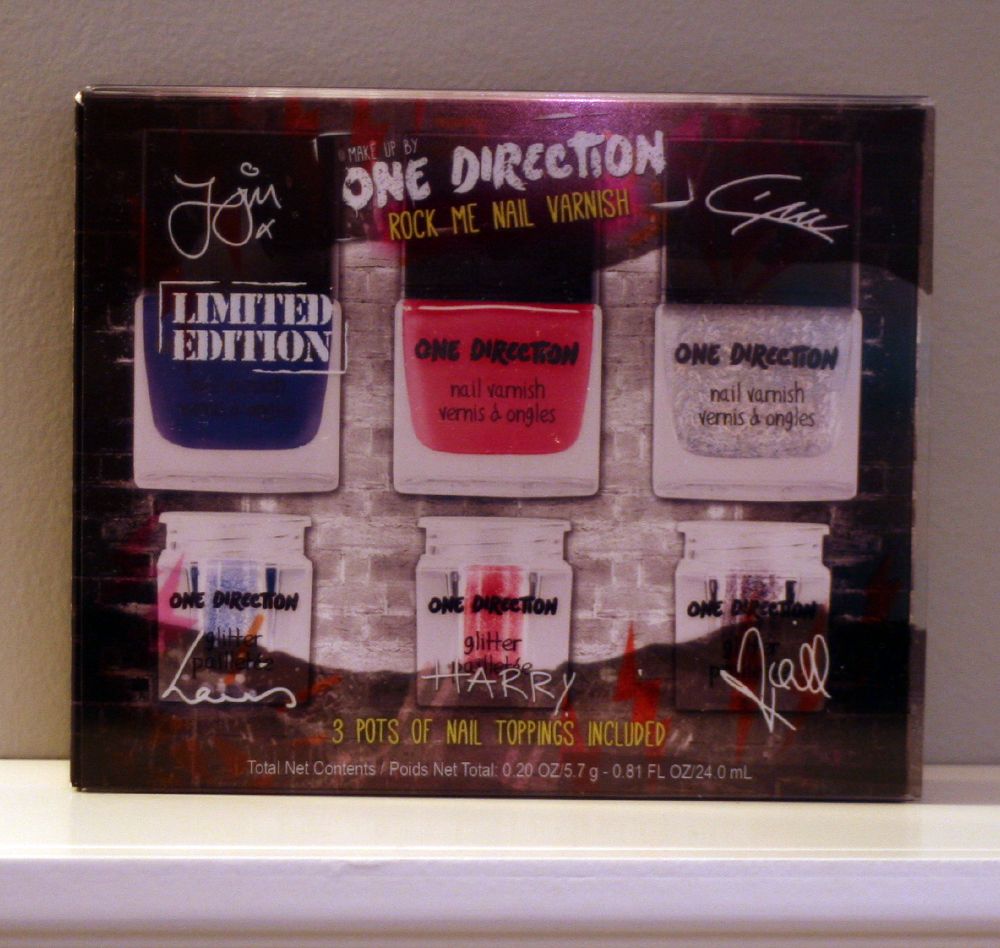 The last thing I got in my initial package of One Direction fun was this nail kit and to say I was excited is an understatement. I may be a mid-twenty year old married lady, but I love me some glitter!
Here is the product description:
ROCK ME NAIL KIT, featuring NEON UV-REACTIVE Nail Varnish and UV-REACTIVE GLITTER nail toppings that add even more sizzle to your mani, for nails that light up day and night.
Sprinkle the glitter over wet polish for a subtle accent, or go for the glitz and dip your entire wet mani in mega-watt sparkle!
Happily– UV iced blue glitter
Moments- UV neon pink
Diana- UV 3D holographic
Glitter Toppings:
Kicks- UV snow cone blue
Not afraid- UV electrified pink glitter
Star-- UV holo glitter
Not only did I get those fun kits, I also got to try out the limited edition tins that came out for the holidays! There is one tin for each of the band members (I got three).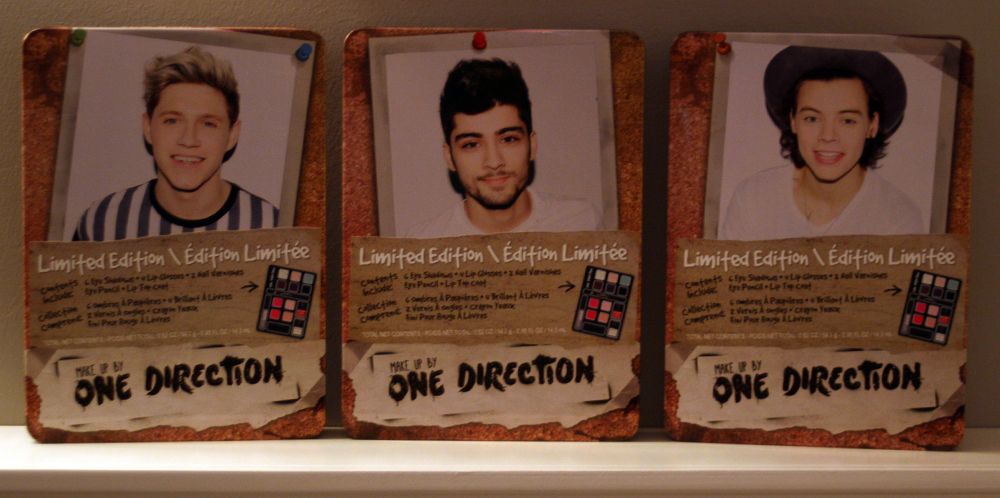 Oh, hi pretty faces!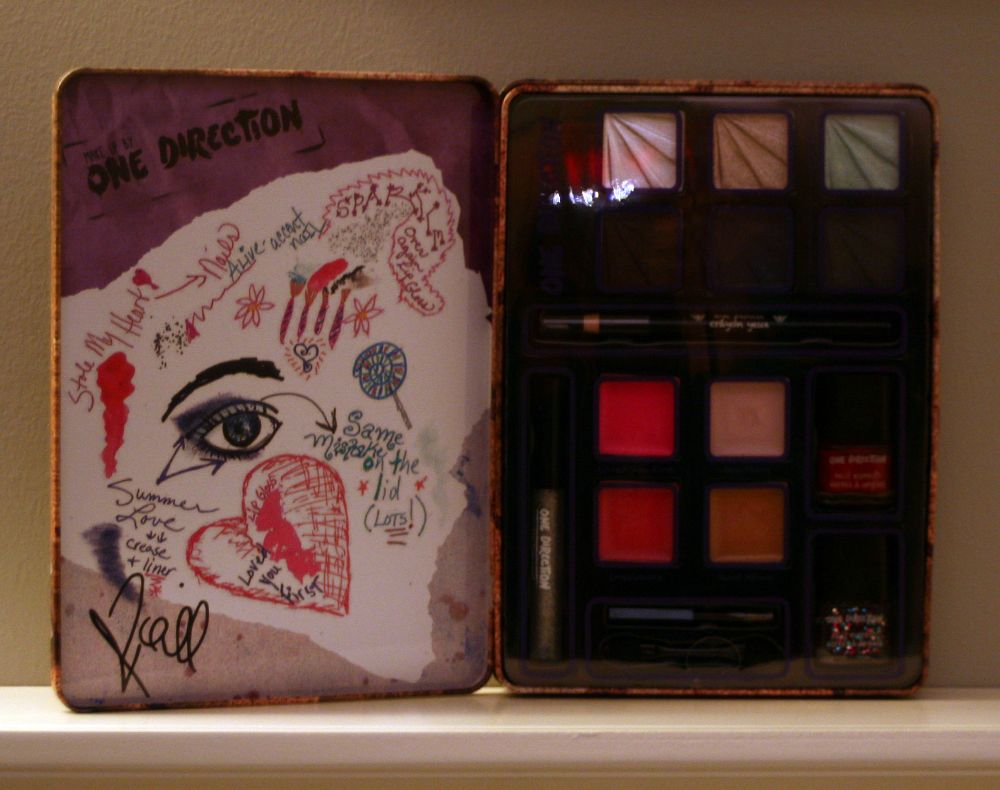 Inside the tin.
Each tin includes six eye shadows, four lip glosses, an eyeliner pencil, a lip gloss top coat, and two nail varnishes.
Eye Shadows
Nobody Compares- Metallic silver
Tell Me A Lie- Metallic nude pink
Same Mistakes- Metallic mint
I Would- Smokey brown shimmer
Summer Love- Smokey purple haze
Everything About You- Smokey black shimmer
Eyeshadow swatches across the top and lip glosses on the bottom.
I really loved the first three eyeshadows, great pigment and easily/evenly applied. The last three were a bit chalky when I swatched them but still had good color payoff!
Eye Pencil
I Want- True matte black
Lip Gloss
Loved You First- Bubble gum pink
One Thing- Frosted pink ice
Irresistible- Shimmered pearl
Heart Attack- Creamy rose shine

These lipglosses were nice too. Nothing too crazy and they felt really creamy.
Lip Gloss Top Coat
Over Again- Silver glitter sparkle
Nail Varnish
Stole My Heart- Magenta pink shimmer
Alive- Multi-coloured glitter flakes
So fun right? Keep on reading to see pictures of a couple of the boys hard at work on this collection.
Liam working on the line (source)
Niall looking through the line (source)
I think the whole line is really fun and would be perfect for a girl who is starting to really experiement with makeup. The One Direction factor only makes it that much better. The quality of the makeup seems to be really good and I was overall impressed with it!
Learn more about the makeup collection
here
.
You can find Makeup by One Direction in the following stores now:
Macy's
Dillards
Boscov's
Stage Stores
Beauty Brands
Lord & Taylor
And you can find these new sets in these stores:
Sears USA
Kmart
Target
Walmart Canada
What do you think? Would you try it, or do you have a little one who would just love to get any of this for Christmas?