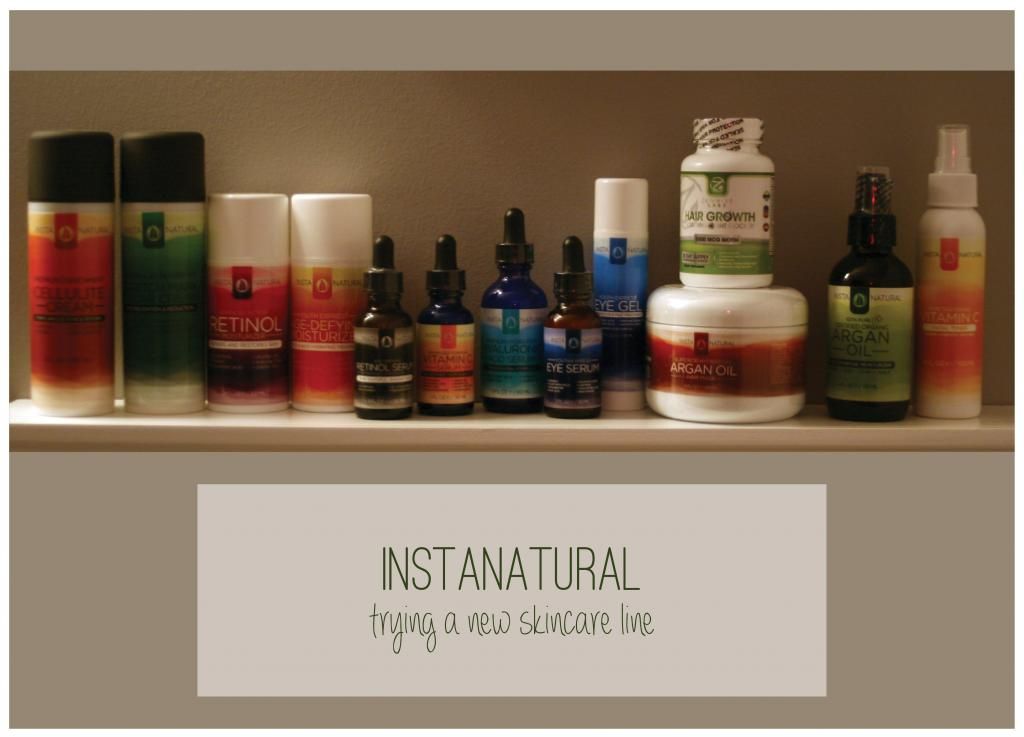 Every now and then I like to switch things up and try something totally new. I feel like this is the best way to keep my skin under control, because if I stay with one routine too long my face gets used to it and starts freaking out again. There are definitely some products that last through these phases and never leave my skincare routine (aka my spot control treatment, face brush, lotions), but I will always try some new ones.

This phase of new products I am giving a shot is InstaNatural and it is sold on Amazon. I ran across this brand on Brand Backer and I was lucky enough for them to choose me to review some of their line. This is a wide variety of products, everything from supplements to multi-purpose oils. I am really excited to give it all a shot.

That being said here is how this review is going to go, because I want to really give this stuff a shot and give you an honest review. To start off I am going to tell you about the brand itself and what each product is supposed to do. Then I will check in each week (probably two or three weeks) with my progress and feelings about all of the products so far. Sound good? I think so!
WTH is InstaNatural?
InstaNatural offers a range of beauty products focused on using natural and organic ingredients. We manufacture and distribute high quality products, while focusing our attention on our customers.
(and there is one other brand too, also found throgh BrandBacker)
Oh, and what is ZenWise?
ZenWise Labs is an online distributor of supplements designed to improve your everyday life. Our Goal is to dramatically enhance the health of our customers through high quality products and excellent customer care. All of our products are All Natural, Made in the USA, and GMP certified, so you know that you're getting the strength, composition, quality, and purity displayed on the label.
So, what products am I trying? Glad you asked...
Hair Growth Vitamins plus DHT Blocker
Cellulite Cream with Caffeine + Retinol
Hyaluronic Acid Serum
Argan Oil Hair Mask
Youth Express Eye Serum
Retinol Moisturizer with Vitamin C
Age-Defying Retinol Serum with Vitamin C, Hyaluronic Acid, and Plant Acids
Vitamin C Moisturizer
Argan Oil Multipurpose Moisturizer
Vitamin C Facial Toner
Zenwise Labs Hair Growth Vitamins formula contains our distinct blend of 27 ingredients, including 5000 mcg of Biotin, that promote hair growth and overall hair health. This formula also provides essential vitamins and antioxidants to address deficiencies that have been shown to cause hair loss.
Our all Natural formula can be used to:
Promote Thicker Fuller Hair
Stimulate Hair Growth
Address Vitamin Deficiencies Associated with Hair Loss
InstaNatural's Argan Oil Hair Mask is a deep conditioning treatment designed to transform dry and damaged strands into soft, shiny, healthy hair. Its restorative ingredients - such as Argan Oil, Japanese Green Tea, Amino Acid Complex, Coconut Oil, Shea Butter, Jojoba Oil, Avocado Oil & Vitamin B5 - work together to penetrate hair deep down and deliver ultimate nourishment and hydration to enhance texture and shine. This intensive blend full of organic ingredients also serves to strengthen hair to defend against heat damage and other external aggressors.
Moroccan Argan Oil is Therapeutic for Every Skin Condition. Also Great for Acne, Dry Scalp, Split Ends, Frizzy Hair, Stretch Marks, Body Cuticles & MORE. This Argania Spinosa is Guaranteed To Make Your Body Shine!
Nourishes and Hydrates The Skin Deeply - Preps Pores for Serums and Moisturizers -Has Powerful Astringent Properties - Great Toner For Men and Women- Suitable for All Skin Types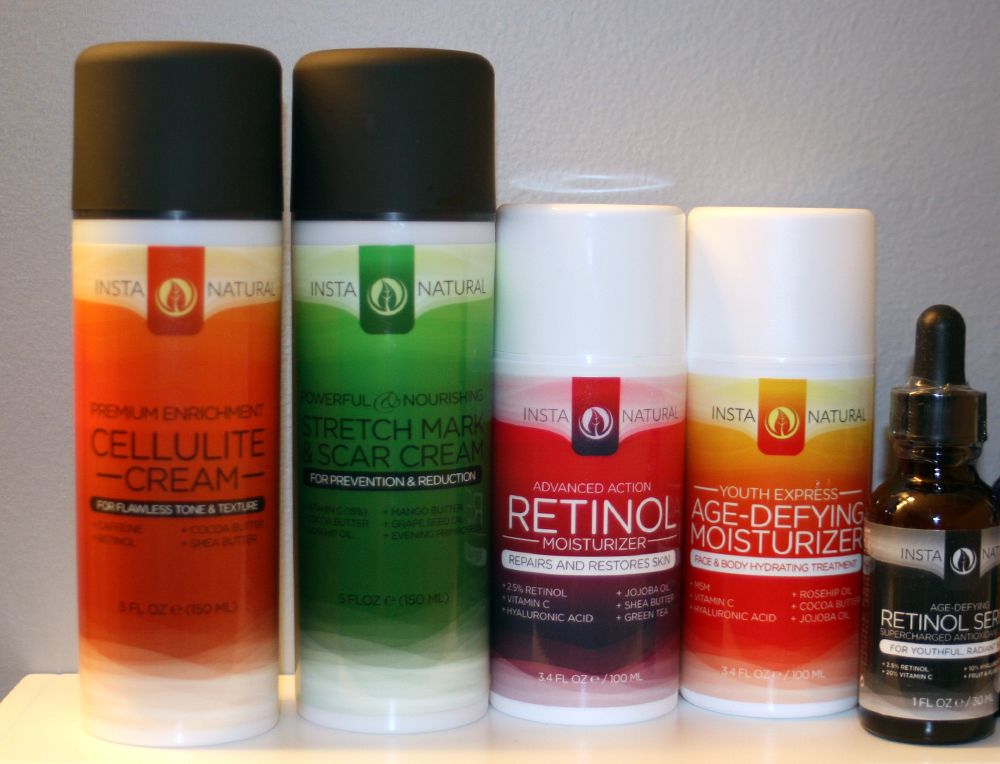 Reduces Old Stretch Marks & Prevents New Ones - Moisturizing Body Cream Reduces and Fades Away Marks & Scars
InstaNatural's Retinol Moisturizer contains a robust formula of handpicked ingredients designed to transform older, damaged skin into a healthier and youthful appearance. Retinol is a powerful antioxidant derived from Vitamin A, one of the strongest and most trusted ingredients for anti-aging skin care. Once absorbed, Retinol is converted into Retinoic Acid, which starts working to help restore skin and diminish the appearance of sun damage and signs of aging, such as wrinkles, fine lines, age spots, hyperpigmentation, rough texture, and more. Vitamin C – another powerful antioxidant – works synergistically to aid in this process of battling early signs of aging, as well as repairing existing damage to promote healthier skin. Simultaneously, Hyaluronic Acid, Jojoba Oil, Shea Butter and Green Tea deliver premium nourishment and hydration to keep your skin moisturized.
This intensive moisturizing cream is the perfect addition to your regimen to restore and renew firmness, elasticity and thickness of the skin for a flawless and radiant complexion.
Reduces Appearance of Wrinkles, Fine Lines, Age Spots, Scars & Discoloration - 98% Natural & Organic Ingredients. Can Also Be Used As A Body Moisturizer, Day & Night Cream and Hand Cream.
InstaNatural's Cellulite Cream is a powerful solution that tightens and tones the skin so you can achieve a smooth, supple appearance.
Our superior blend of ingredients - such as Caffeine and Retinol - deeply nourishes the skin to decrease the appearance of cellulite and dimples. Caffeine tones and tightens, while Retinol repairs and restores, so you can obtain long-lasting results for a firm and supple appearance.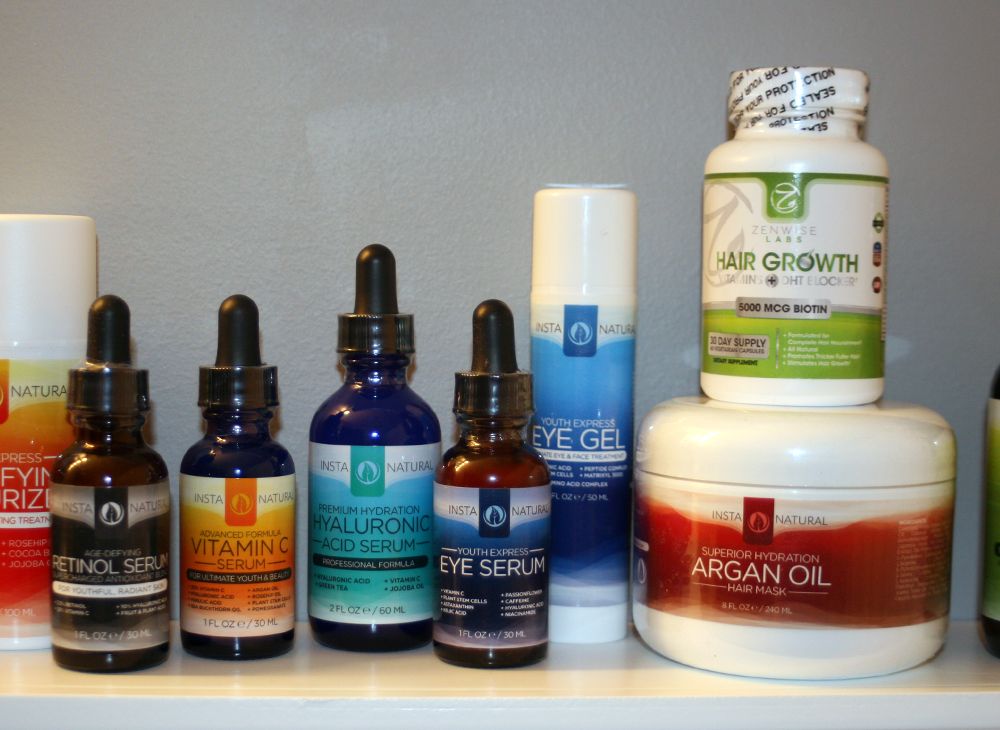 InstaNatural's Age-Defying Retinol Serum contains a proprietary blend of antioxidants and nutrients that nourishes your skin while helping it to look younger and healthier. The serum contains Retinol (Vitamin A), which is an antioxidant that protects against free-radical damage that causes your skin to look and feel older. It is highly effective in reversing the appearance of sun damage and signs of aging, such as wrinkles, fine lines, hyperpigmentation and rough texture. Vitamin C works synergistically to aid in this process of repairing and restoring damaged skin, while also stimulating new healthy skin to appear. Meanwhile, Hyaluronic Acid traps moisture in the skin to prevent further loss so you can enjoy a younger looking appearance with firmer, plumper skin.
Great For Anti-Aging & Anti-Wrinkle Facial Regimen - Helps Diminish Appearance of Fine Lines, Wrinkles, Sun Spots, Age Spots, & Skin Discoloration
InstaNatural's Hyaluronic Acid Serum contains botanically derived Hyaluronic Acid along with a perfect blend of antioxidants Vitamin C + E + Green Tea. Holding up to a 1,000 times its weight in water, Hyaluronic Acid is a great natural hydrator for the skin by helping the skin to retain moisture.
Each 2 oz bottle of our Hyaluronic Acid Serum is cruelty-free and made in the USA in our advanced FDA registered facilities.
Benefits of Hyaluronic Acid Serum:
- Improves skin texture and brightness with intense moisture and balance
- Reduces appearances of dark circles & puffiness
- Diminishes the appearance of fine lines and wrinkles
- Provides instant hydration for smoother, softer skin
- Helps you achieve an overall vibrant, healthy complexion
InstaNatural's Youth Express Eye Serum is a highly concentrated blend of invigorating ingredients designed to restore a youthful appearance to the eye area. Our serum contains an advanced Peptide Complex - along with Plant Stem Cells, Matrixyl 3000, Astaxanthin, Kojic Acid, Caffeine, Passionflower, and Vitamins C and E - which help to deliver exceptional results to the under eye area, resulting in a decreased appearance of wrinkles, fine lines, dark circles and puffiness.
This Anti-Aging Serum for Face Will Reduce Fine Lines, Wrinkles & Discoloration So You Can Obtain Youthful, Radiant, Plump, and Vibrant Skin That You Have Always Desired
Not Pictured:
Vitamin C Moisturizer
InstaNatural's Vitamin C Moisturizer contains a proprietary blend of supercharged antioxidants and other powerful ingredients that help you achieve youthful-looking skin. Vitamin C is a well-known antioxidant agent that fights free radicals in the environment to help protect your skin from the damaging effects of sun exposure and ultraviolet radiation. Constant exposure to such harmful elements can contribute to signs of aging such as wrinkles, age spots, discoloration and dryness. Applying our moisturizer will deliver a potent 20% dose of Vitamin C to your skin, along with other nourishing ingredients – such as Niacinamide, Hyaluronic Acid, and Plant Stem Cells – that work together to repair existing, damaged skin and restore a healthier, even skin tone. Our moisturizing cream is a great way to enhance antioxidant protection to brighten and nurture skin for a healthy, glowing appearance.
Holy cow that was a lot of stuff and information. They really make some big/great claims so I am excited to see how it all works! See ya next week for my first check-in.
Have you ever heard of InstaNatural or ZenWise? Any good reviews, thoughts?
I was sent these products c/o BrandBacker, InstaNatural, and ZenWise in return for a completely unbiased review. As always, all thoughts and opinions are 100% my own. I would never lie to you!
and keep up with my blog by following me on Bloglovin' and liking my page on
Facebook
!