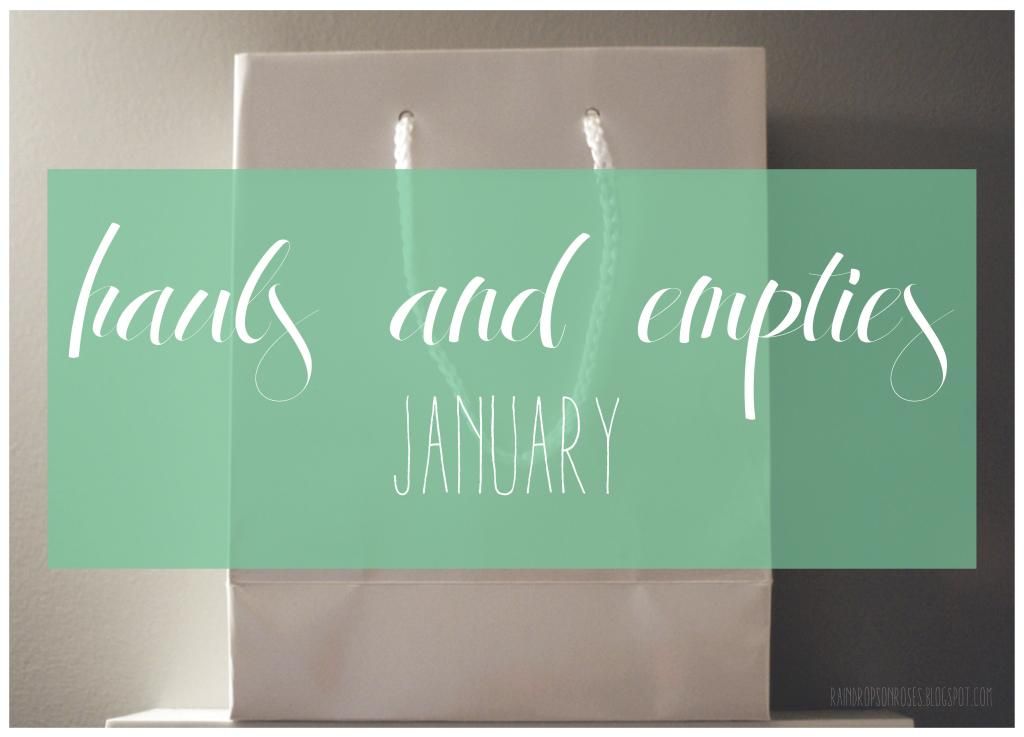 Another month down, and this is basically halfway through the next, but stuff happens. Here is my list of goodies from January and the things I have emptied out throughout the month.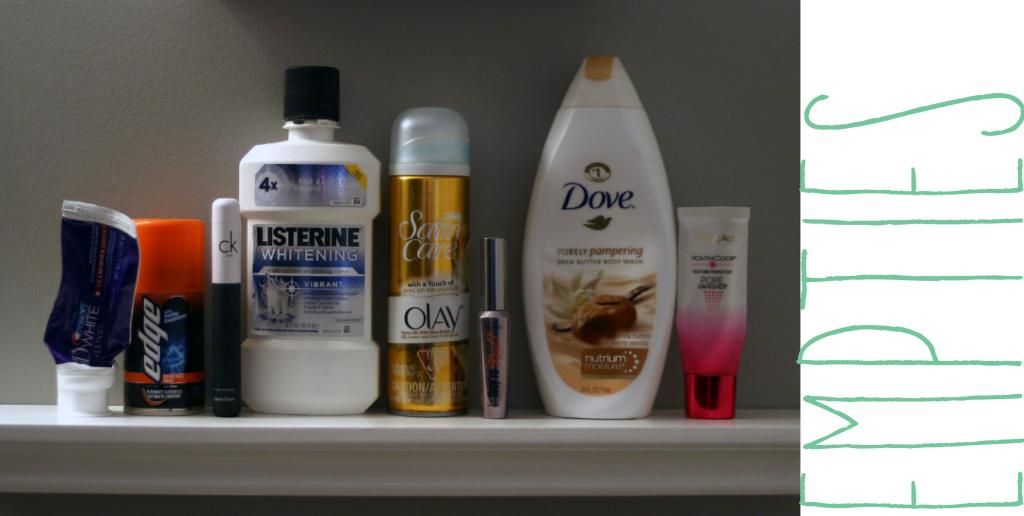 Listerine Whitening (multi-action whitening rinse) in Vibrant
This one is tricky. I liked it enough to use it, but it wasn't my favorite because of the tingling and extreme foaming. Granted that is pretty typical of whitening mouthwashes isn't it?
Gillette Satin Car with a touch of Olay
Loved this until it ran out. I hadn't used a shave gel in so long, but I don't know why now.
Dove Purely Pampering Shea Butter Body Wash
Loved the smell of this one and it lathered up well. All you can ask for from a body wash right?
Edge Sensitive Skin
When my Gillette ran out I stole Nate's and actually liked it more.
Crest 3D White Luxe in Glamorous White
This was our go to toothpaste for a while, but we are trying something new. If that doesn't work out we will probably go back. (I know, I know. The exciting part of life - toothpaste.)
L'Oreal Youth Code Texture Perfector Pore Vanisher
I really liked this at first, but as I got further into it it got runny and I wasn't as in love with it. Not my favorite, but not my least favorite.
Benefit they're Real! Mascara
I mean, this one is a given pretty much every 4 months. It is my favorite mascara to date. I am trying new ones, but I can't beat this one yet. Will repurchase when my backup starts running low.
The brush was my favorite part of this one. It twisted to be a shorter thick brush or a long lengthening one. I got it for my birthday from Ulta last year and used it for a while, moved on to others and then came back to it and found it dried up. Too bad.
Now for the fun part! The new things...my favorite.
My recent obsession has become lip products. There are definitely some new favorites in this bunch.
Too Faced
Lip Insurance Lip Primer
A new necessity with all the red tones I have been wearing lately. It does what it says it will.
Too Faced
Melted
Lipstick in Melted Strawberry
Love this lipstick. The color, scent and packaging is all perfect.
Too Faced
Lip Injection
This feels like pins and needles for sure. More intensely than I thought it would, but it is great for swiping over your lipstick quickly to give your lips that extra umph.
Soap and Glory Sexy Mother Pucker in Candy Gloss
This one is not as tingly as the Too Faced one is, but there is still some tingle to it (which I love). The color is perfect for layering too!


Bite Matte Creme Lip Crayon in Leche
My new favorite right here people. This lip crayon is so smooth and stays forever on me. Plus it smells great and the color is a amazing neutral.


Buxom full-bodied Lipstick in Two Timer
This is a great your lip but better.


Nars Velvet Matte Lip Pencil in Cruella
I wore this last weekend when we went out and I loved it. Perfect red for me and stayed put really well.


Too Faced
Glamour Gloss
in Sex Pot
Love this to change the tone of a lipstick and just by itself. Will probably get in a full size when this runs out.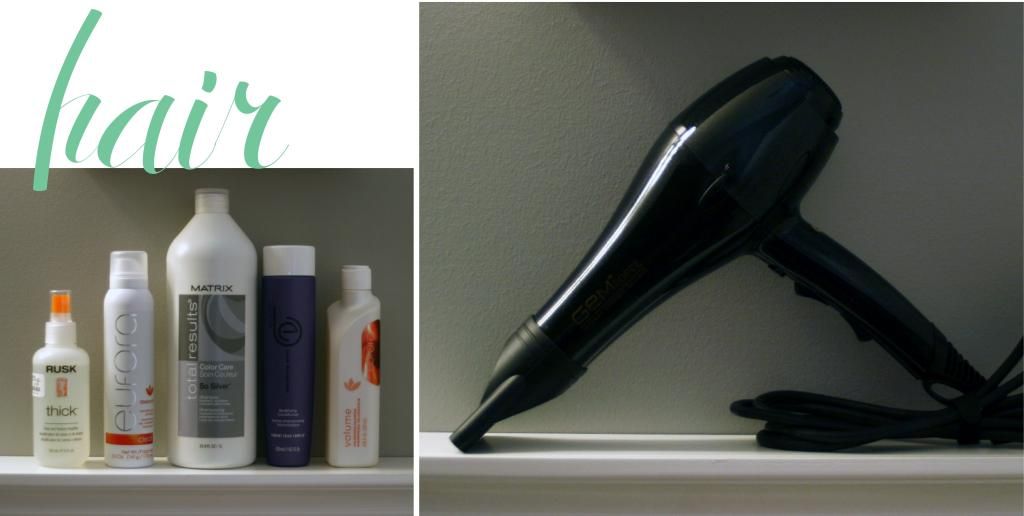 I have always had a thing for hair products. I love trying new ones and seeing what works best to make my hair look big and beautiful.
RUSK thick Body and Texture Amplifier
Love this stuff. I notice a difference in my hair after using it. It doesn't weigh down the hair and the product disperses really well too.


Eufora Touch Up Texturizing Dry Shampoo (c/o)
Alright, so it is common knowledge that I love me some dry shampoo. I had thought I had found my end all be all in psssst! but then Pin Up Curls had me try out their Dry Shampoo from Eufora. Holy heaven, I love this stuff. When my hair starts looking a little sad, flat, oily I spray this and my hair is good to go. It gives it volume, soaks up the oils and give my hair a little grit. It is perfect for messy updos and braids because my fine hair actually gets some hold. LOVE THIS PRODUCT.


Matrix Color Care So Silver Shampoo
I began using purple shampoo at the end of the summer when I started to lighten my hair to keep the brassy tones out. This shampoo works so well and I really don't think I would go without it anymore.


Eufora Bodifying Conditioner (c/o)
elixer
Eufora Volumizing Shampoo (c/o)

Gem Force Ceramic Blowdryer
Bought this out of necessity. I require my hairdryer to have speed options and heat options and this did so it won. It is small and works pretty great.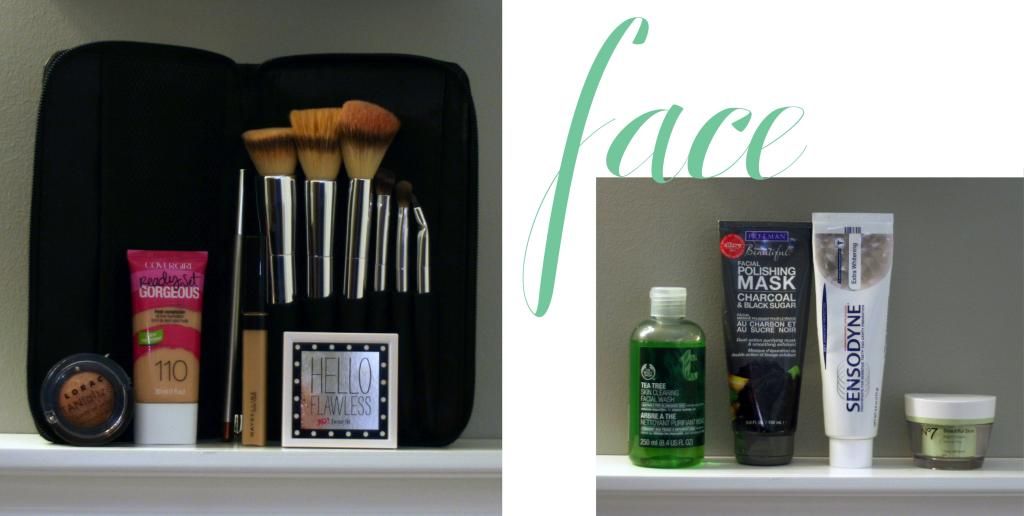 Recently I have really been experiementing with makeup and skincare. This month was no different.
Lorac TANtalizer Baked Bronzer
This Bronzer is gorgeous! I used it as my highlight for Seanie's bachelorette party a few weeks ago and it was the prettiest thing ever! Thank goodness for Alexandrea Garza for introducing me to this one.


Covergirl Ready Set Gorgeous in 110
I have another YouTube beauty to thank for this one, Tiffany D has raved about this foundation for a while now and I ran out and bought it, tried it, and loved it. My skin has gotten a bit lighter lately so I grabbed another bottle in a lighter shade.

Mirabella Eye Definer in Bronze
Again, Alexandrea Garza for the win. I love using this to really emphasize my eye and give it a bit of definition without being too overdone.

Maybelline Fit Me Concealer in Light 10
I forget who I heard about this one from, but I got it again because I was getting lighter and needed to lighten up my concealer to match!


Benefit Hello Flawless Powder in Beige
Love is not a strong enough word for my feelings about this powder. It is so smooth and light-weight, but the coverage is amazing! Love, love, love it!


it Cosmetics Advanced Brush Set
These brushes, guys, they are heaven. So soft. Such good product disbursement. I love them.
(Brushes included in the set: Blurring Powder, Soft Touch Blush, Buffing Foundation, Bent Liner, Precision Crease, Flawless All-Over Shadow)


The Body Shop Tea Tree Skin Clearing Facial Wash
This face wash has actually worked a bit. I had heard about the benefits of Tea Tree oil for your face, and when I saw this it just made sense. Plus for the price, you can't beat it. Still using to determine long term effects.


Freeman Facial Polishing Mask
I picked up this baby because I love me a mask. This one really makes my skin feel smooth and I have added it into the rotation along with my others!


Sensodyne Toothpaste Extra Whitening
Here is an exciting one for you, toothpaste. Nate and I have both decided that we will probably try and whiten our teeth here soon, so we are trying to combat against the sensitivity we are about to have. Honestly, I like this better than the Crest toothpaste we just emptied
.
No 7 Beautiful Skin Night Cream for Normal/Oily
Always on the hunt for good skincare, I picked this up for the days when I just really want to wash my face and put on a simple lotion before going to sleep. For non-serum and cream nights, this is perfect. My skin feels hydrated and not oily in the morning. It does exactly what I need it too!
And that is it. All the things that came into my life this past month. Definitely some goodies in there!
Any new products out there I should give a shot? Let me know in the comments below, I would love to hear from you.
What other types of beauty posts should I do? I am here to help you and makeup is one of my favorite things so I am always looking for new ways to play. Help a girl out!
Have a great day everyone!
and keep up with my blog by following me on Bloglovin' and liking my page on
Facebook
!