I don't know about you but winter kills my skin. Normally my skin is oily/combination so for my skin to just be completely dry all over is saying something. Because winter is doing a great job at drying me out, I had been on a huge hunt for hydrating products as of late.Enter my guardian angel - Valentia.
I have mentioned
Valentia
products before, and currently am using their Vitamin C serum at night for an extra boost (trying to fade some discoloration - vitamin c wins). Anyway, it was like they heard my cries for help because they sent me their True Glow Eye Cream and Ultra Plumping Hydration Mask to try out. (Enter heavenly angel voices here).
Let me explain why I have so much love for this stuff. I woke up one morning this week and felt like my skin was about to rip. I looked in the mirror and the skin around my eyes was the most crepe like I have ever seen it. I used both of these that day and I legitimately felt a difference instantly. I haven't been using them long enough to see if the long term effects hold true, but the immediate ones were enough to help my skin out when I needed it. Here is a little more about both products:
[Packaging]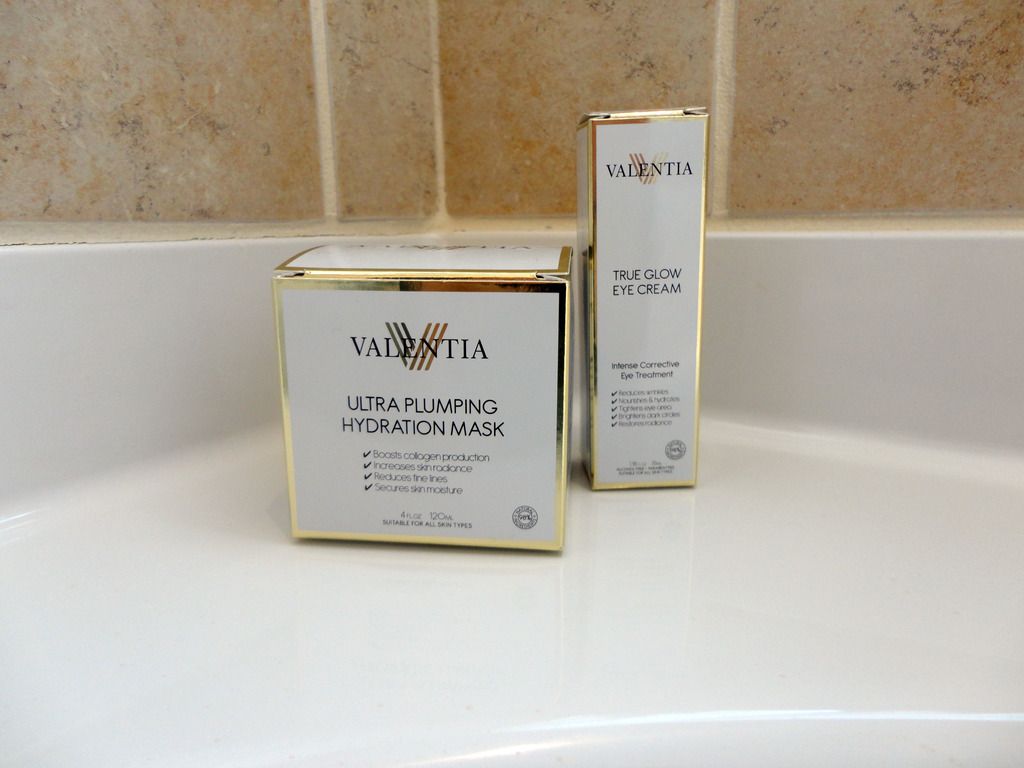 I can't start this review without talking about the packaging first. Valentia really does a great job with their branding/packaging in my opinion. I love, love, love white, gold and negative space and that is exactly what their packaging it. Really, it just looks fancy to me and that always makes a girl feel good.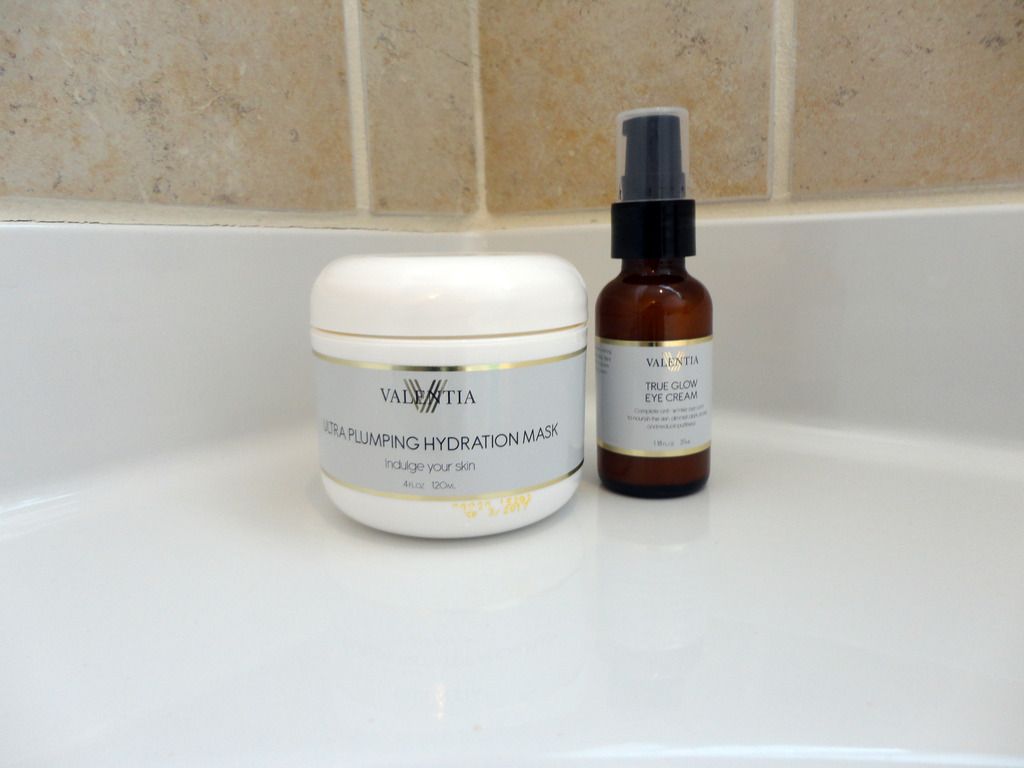 The bottle and tub that the actual products come in are good as well. I like the bottle for the eye cream more and feel like it still gives off the fancy/expensive vibe. The jar that the mask comes in though just feels a little more cheap in my opinion. The label still shows that clean and simple look that I love about the brand, but I almost wish the jar was the same brown glass that the eye cream bottle is made out of. (I'm sure it would raise the price though so the plastic really isn't that bad)
Enough about the packaging, let's get on to the more important stuff.


[Cost]
Normally $54.99, but you can get it on
Amazon
for $25.00!
[Claims]
REDUCES WRINKLES & FINE LINES
PERFECT BOTH MORNING & NIGHT
[Ingredients]
Astaxanthin: A powerful antioxidant that increases moisture levels, smooths fine line and wrinkles, and restores elasticity to the skin.
Resistem: Natural Plant Stem Cells repair and protect the skin from harsh environmental pollutants and stress related aging.
Vitamin C: Leaves the skin smooth and visibly brighter for a well-rested and bright eyed look.
Organic Rosehip Oil: Provides intense hydration to reduce the appearance of fine lines and wrinkles.
Arnica: A key anti-inflammatory agent to the restorative process that works to diminish the appearance of dark circles.
[Thoughts & Impressions]
It felt so refreshing on my eyes. The texture and consistency were just right too. The packaging is just as good to look at as my other products from Valentia. Overall I like it so far. I am going to keep using it to see if I notice a difference with my dark circles and fine lines/wrinkles. If I still see improvements in a few weeks this will most definitely be an item I go back and purchase a backup of.
Bonus: I am all about the Vitamin C, it is life lately.


[Cost]
Also, normally $54.99, but you can get it on

Amazon

for $25.00!



[Claims]
NATURALLY NOURISHING INGREDIENTS
[Ingredients]
Silk Protein Amino Acid Blend:These natural miracles increase moisture content and help in the production of collagen and elastin which decreases the appearance of visible lines.
Botanical Hyaluronic Acid:Penetrates deep into the skin to secure moisture and plump skin from within.
Organic Sea Buckthorn Oil:An anti-aging wonder berry that results in fewer fine lines, diminished sun spots, more even skin tone, and firmer more supple skin.
Japanese Green Tea:Contains catechins that provide anti-aging, anti-inflammatory, and anti-irritant effects to the skin.
Aloe Vera:This botanical moisturizers skin and fight aging by improving skin firmness.
[Thoughts & Impressions]
This smells like an orange Popsicle, like the kind I ate when I was a kid at my Nanna's house. Obviously it gets points for that. But in all fairness, it gets points just for how is made my skin feel. It had a fresh tingling feeling at first, but it didn't last the whole time. My face looked like I used a bad self tanner by the end of it, it was just because the mask itself is orange and it washed right off. I felt like my face felt more plump/hydrated after using it and I will continue to use it to see if there are longer term benefits to the fine lines/wrinkles I am starting to see in my forehead (because I make some emotional faces). My only problem with this is the texture, but that is completely my issue. It felt amazing when it was on my face, but when I dipped into the jar to pick up the product I got a little squeamish. In the future I will be applying with a brush instead (which is more sanitary anyway).
[Recap]
So far so good for both of these products. Valentia does a great job with their skincare and I have personally loved each of the products they have sent me to test out. If something does what it claims to do I really can't complain. If you want to try out some new skincare products to help with your winter skin, read up on Valentia (here) and see if they are a match for you.

Thanks for spending some time with me. As always these thoughts/reviews are one hundred percent my honest opinions. These items were gifted to me for testing purposes, but I would never lie and say I liked something when I didn't. We are real here. Always.