I can tell you what isn't my favorite, waking up to no power when it is in the negatives outside. Not fun.
Anyway, I am not a completely negative Nancy. Here are my favorites for the week!
These brushes are absolute heaven!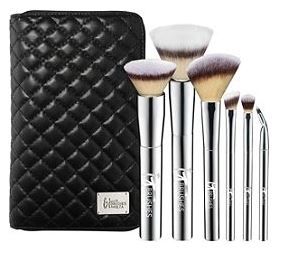 I am in love you guys. This powder is everything I was hoping it would be and when applied with the powder brush from the set above it is even better. My face looks smooth and the makeup isn't heavy at all. Best of all, it isn't breaking me out.
Jessie James Decker's Hair
I am so obsessed with this look. Seriously she is perfect all the time, even when she is a mess she makes it look intentional. I have my hair appointment tomorrow and this is what I am asking for - Jessie James' hair.
Blank Space/ Style Mash-Up
This version of T-Swift's songs is just heavenly. It is different and very well done. Give it a listen and decide for yourself though!
This post about DIY Dry Cleaning
If you are looking for a quick, easy and cheap way to dry clean your clothes, check out this DIY method from Krista at The Quinntessential Mommy. You'll never take your clothes to the dry cleaners again!
The Bachelor
It is finally back! I am so excited, yet disappointed already. The fact that Chris has apparently done what he did is sad to me and the episode hasn't aired. However, I am pro Britt and him kissing because there was obvious chemistry. Also, the level of crazy kept me entertained.
I mean, come on, you can't tell me you didn't laugh at the whole onion/pomegranate debacle.
Jimmy Fallon and Nicole Kidman
...and then this happened. My husband and I really couldn't stop laughing. I mean revealing this on National television is bold.



And that is it! Have a good Friday lovelies!
and keep up with my blog by following me on Bloglovin' and liking my page on
Facebook
!