I decided to switch things up. Instead of doing a haul and empty post together, I am going to do each separately (and I am waiting until I build up a full bag of empties). So now, when I do a new product "haul" at the end of the month it will also include more thoughts about each products and my first impressions of them!
This month I had a lot of coupons and perks saved up from different places. I also ran out of a couple of things that I needed to replace and exchanged a not so good concealer for a better one. Also, a threw in a couple of products from last month so I could give you my first impression thoughts. Keep reading for all the details.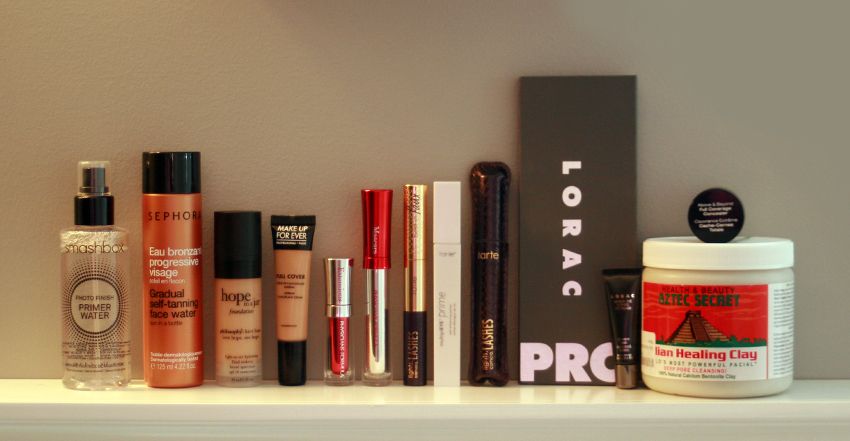 Disclaimer: this post contains affiliate links.
Smashbox 'Photo Finish' Primer Water
(bought last month)
I have been using this when I really want my makeup to look good and last. After spritzing evenly over my face and letting it dry, I get a clean/fresh base to add my
POREfessional
to. I really have noticed a difference in the oiliness of my skin throughout the day when I use this stuff.
Sephora Gradual Self-Tanning Face Water
You all know by now that I self tan, but in between applications my face always loses its color (thanks to lots of exfoliation and cleansing). I had been using a gradual face tanning lotion to help keep my glow, but that always felt too heavy. This stuff is light and still hydrates and works to help keep a subtle glow going at all times.
Philosophy Hope in a Jar Foundation
I was running out of a certain shade of foundation so when I saw this on sale at Ulta during their 21 Days of Beauty I jumped. So far I like it. It feels so light on my skin and gives a nice, even coverage without being too much. It also definitely leaves my skin feeling more hydrated. My only issue with it is the smell, but I am getting over it.
Make Up For Ever Full Cover Concealer
This was a trade in. Originally I was planning on just exchanging my Kat Von D concealer that was runny for a new one, but the replacement was runny too. I ended up just asking if there was another brand she (the lady at Sephora) would recommend and went with this one. I LOVE IT. It is thicker than my MAC concealer was, but not as thick as a Laura Mercier or Benefit cream concealer. So far it is doing good things and I have been wearing it often.
Physicians Formula Lash Extension Kit
(bought last month)
You can see my full review of this one
here
, but I have tried this multiple times and I just can't make it work without a ton of fall out. Any one else have this problem?
Tarte Best in Faux Lash Extension Kit
(bought last month)
Still my favorite (full review
here
). I have used this so many times since getting it and I love it more and more each time.
Tarte MultiplEye Lash Enhancing Primer
I had been on the hunt for a lash primer because I have been obsessed with eye products lately, and this one popped up on sale at Ulta. Score! I really like and so far have no complaints. The packaging is great and it is easy to apply. I definitely notice a difference using it as compared to just mascara.
Tarte Lights, Camera, Lashes Mascara
My Benefit
They're Real
mascara was running low so I had to replenish. Instead of getting the same old one though, I switched things up a bit since I knew I liked this one from my extension kit (and it was a beauty steal during Ulta's 21 days of beauty). I don't have any problems with it transferring to my brow bone (always an issue) and it gives good definition to my lashes. Winner!
Lorac Pro 2 Eyeshadow Palette
This was a late "Christmas" present of sorts. I found some leftover Christmas money and new I wanted to get this bad boy with it. The formula of the shadows are wonderful (so smooth and creamy) and they are really pigmented. It is really nice to have all the cool colors in this palette to balance out the warm tones I have in my
Naked 3
Palette.
Lorac Behind the Scenes Eye Primer
I am in love with this primer. It is light but holds shadows tight. I don't have an issue with creasing or transfer when I use this stuff.
Aztec Secret Indian Healing Clay
Sometimes you just have to admit that your father was right in high school (and hope he doesn't find out). As a teen, he had bought this clay for me to mix up and use as a mask to treat my acne. Of course I never used it like I should, but now as an adult I decided to give it another shot. It is great! I have been using it once a week and I really feel my face pulsate under the layers of clay and my skin feels so clean and refreshed after. The redness in my skin and the severity of my blemishes is greatly reduced as well. You win Dad.
NYX Full Coverage Concealer in Yellow
I honestly wanted this in orange because I heard that it is supposed to be great for under eye circles, but they didn't have any in-store and I didn't want to order online. The yellow is meant for dark circles also and I have been using it every now and then. I think I see a difference, but I will need to do a side by side comparison one day to really decide.
SHOP THE POST:
That is all folks! If you have any experience with any of these products I would love to hear your thoughts. Happy Tuesday!