Oh happy days, it is Monday! Another weekend flys by. This weekend we spent our time up in Fort Wayne with family and friends and it was so nice.
[Friday]
We originally were planning on heading up Saturday, but a change of plans in Saturday's list of things to do let us leave early. After work we packed up and headed out in what was probably record time. Unfortunately because we left a smidge earlier than usual we hit more traffic than normal, pretty sure all the stop and go made Remi a little stressed. We all survived and headed out for dinner with the family when we finally got there. After dinner we swung by a friend's house to just catch up for a bit, until I just couldn't stay awake any longer (neither could some others). Stuffed bellies led to a pretty good night's sleep for me, Nate was struggling with a cold or something so maybe not so soundly for him.
[Saturday]
Nate and I are soaking up all the sleeping in we can get, even when sleeping in means 8:30. The rest of the morning was nice and slow until we headed off to Pin Up Curls for a family haircut day. Seanie made our hair look great as usual and I chopped off a bit more than origianally planned. It was one of those days were I started with 2 inches and ended up getting rid of about 4 maybe?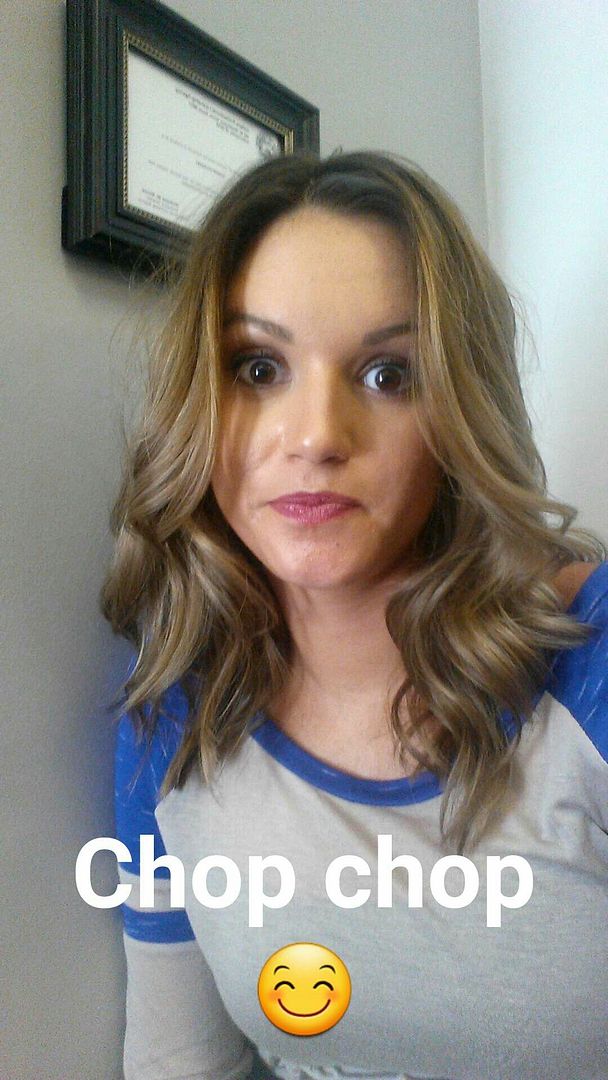 Let's ignore the snapchat face shall we?
No matter how much it actually was, it is a lot of damage gone and a step toward healthier locks again. And I love it
Nate and I headed to the mall after the salon and got some lunch (Panda wins every time) and then headed to Motherhood to look at jeans. I honestly had no intention of actually buying a pair that day, partially because I expected buying maternity jeans to be just as, if not more, traumatic as my normal jeans buying experiences. It was the complete opposite though, and we walked out with black and dark wash skinny denim to get me through the winter. Who would have thought I would ever buy the first pair of jeans I tried on? Not me that is for sure.
After the shortest shopping trip ever, we headed back and got Remi before heading to a friend's house for the rest of the evening. We watched football (specifically ND), ate chilli and made a Kroger run for pregnant snacks (my friend we visited is also pregnant). It was a nice relaxing night.
[Sunday]
Nate was still under the weather Sunday morning so we took it slow again. I had a baby shower to head off to around 1 and he headed to a soccer game with Remi. Afterward we again hung out with friends for a bit and watched football, and then headed back to his parents to see them before we left.
Traffic going home was ten times better, but we still didn't get home until 8:30 and ended up just crawling in bed. I was not mad about it at all, we are really soaking up as much sleep as possible right now.
This week we don't have too much planned, but the weekend will probably be spent on a lake with friends for at least a day. I am sure there will be more football at some point and I am also going to be doing some major design work for friends and this little blog of mine. Also on the list, start packing/planning for the Vermont trip with my mom next week!
Here goes another week in the life of an adult.
and keep up with my blog by following me on Bloglovin' and liking my page on
Facebook
!