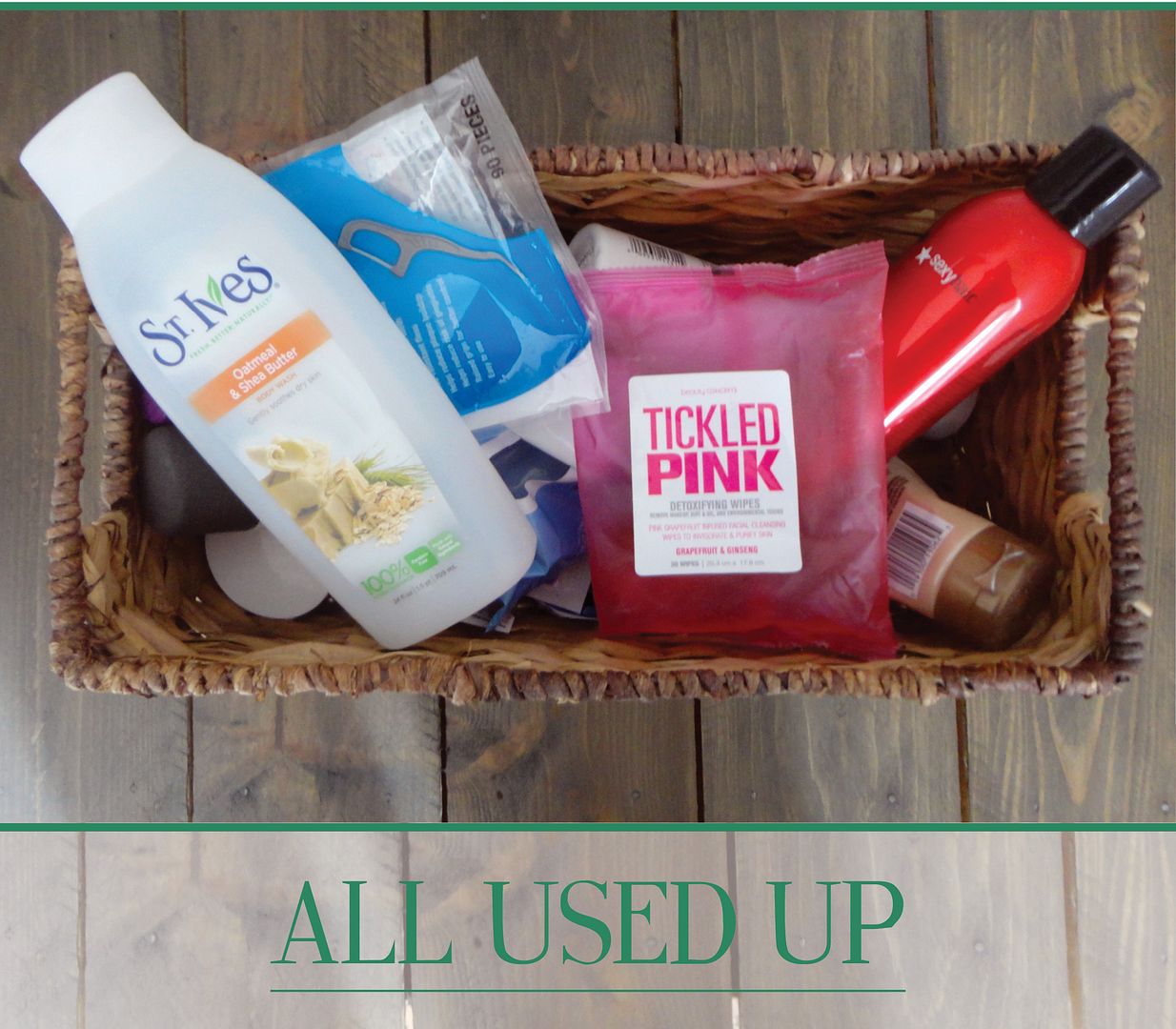 When we first moved into our house and started unpacking everything, Nate made a comment to me about how much back up product I have. Things that I got to test and then never finished the bottle or lotions that I bought in bulk during sales - you get the idea. Well I kind of took the comment and put it in the back of my mind for a while, and then in June he again brought my attention to all my stuff by saying he just wished he could open a closet/bathroom cabinet without seeing my back-up stockpile. Well I listened this time and I must say I did some damage on my products. My empties bin is overflowing and I am full of thoughts and opinions on these products. Maybe one of these reviews will help you decide what to try next and what to skip.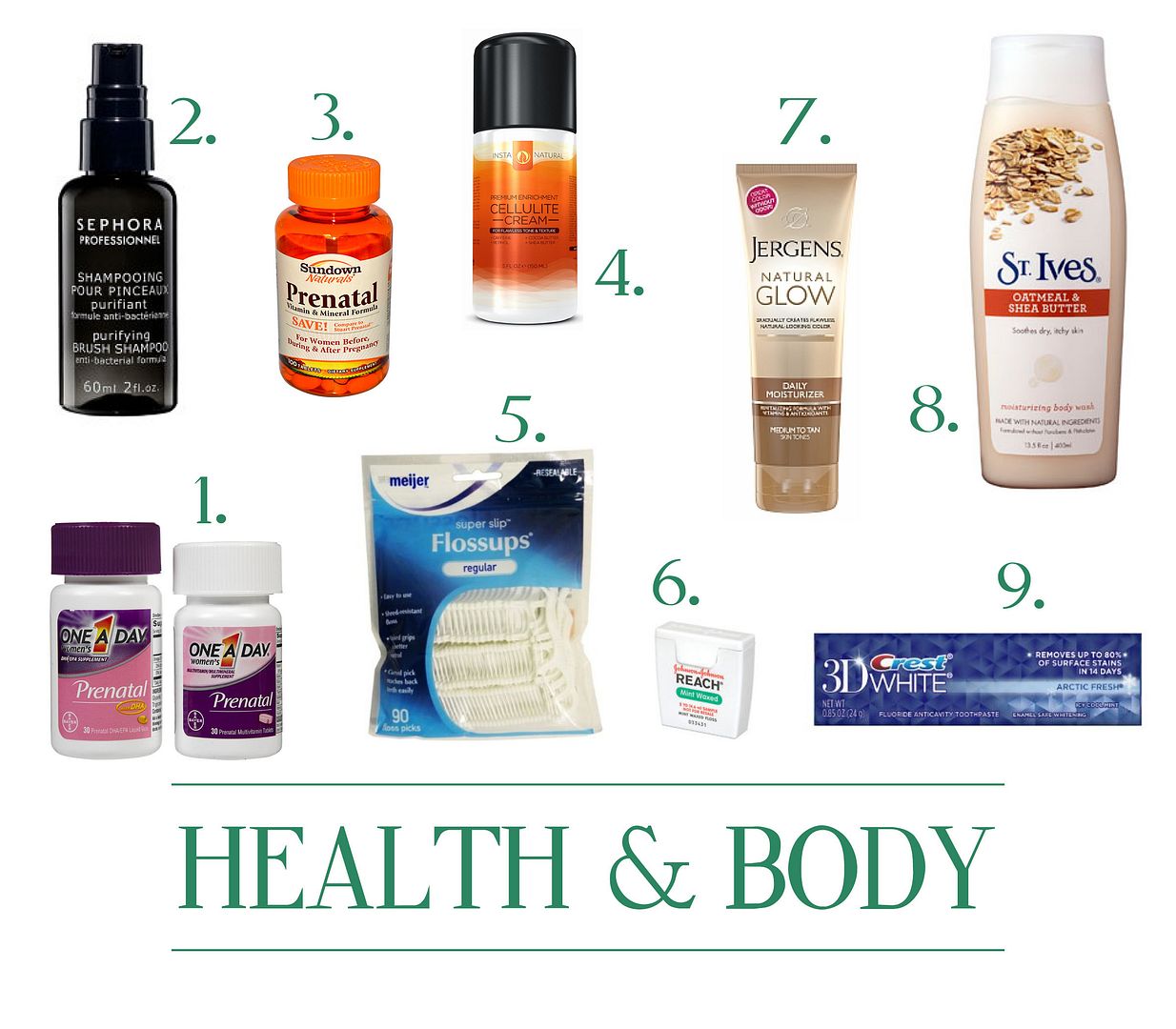 1. One a Day Women's Prenatal and DHA
Nothing to complain about here. They worked from what I could tell.
2. Sephora Brand Makeup Brush Shampoo
(didn't finish it)
Eh, not my favorite. I don't know if it was because it had gotten old or if the formulation of it was just bad, but I got clumps of like rubbery cleanser that would come out every now and then. Honestly, baby shampoo works so much better.
3. Sundown Naturals Multivitamin Prenatal
Again no complaints here.
4. Insta Natural Cellulite Cream (didn't finish it)
Yup, nope. It smelled real funny and the texture was not all that great. I ended up feeling really sticky and the results weren't worth the smell/stickiness.
5. Meijer brand Super Slip (R) Flossups
I mean it is floss. Every now and then I would get one that would break when I went to use it, but I feel like that always happens with floss sticks. I would definitely get these again though, worth it for the price.
6. Johnson & Johnson REACH(R) Mint Waxed Floss
I like this floss more than the one I have now. It stayed around my fingers and did it's job.
7. Jergens Natural Glow Daily Moisturizer
This one had a bit of a self tanner smell, but it does what it is supposed to do and keeps my skin looking healthy. I have already bought a new bottle.
8. St. Ives Oatmeal & Shea Butter Body Was
h
I didn't notice a crazy soothing result from this like I was hoping. My skin has been super dry through this pregnancy and anything that is supposed to be calming is on my list of things to try. It lathered pretty good though and smelled good. I didn't get it again because I wasn't in love with it but I may give it a second chance some day.
9. Crest 3D white Arctic Fresh
We have been using this forever, but after we get through this last tube of it I think I am going to stop buying it. One of my friends is a dental hygienist and said the beads in it don't dissolve and can get stuck under your gums. No thanks.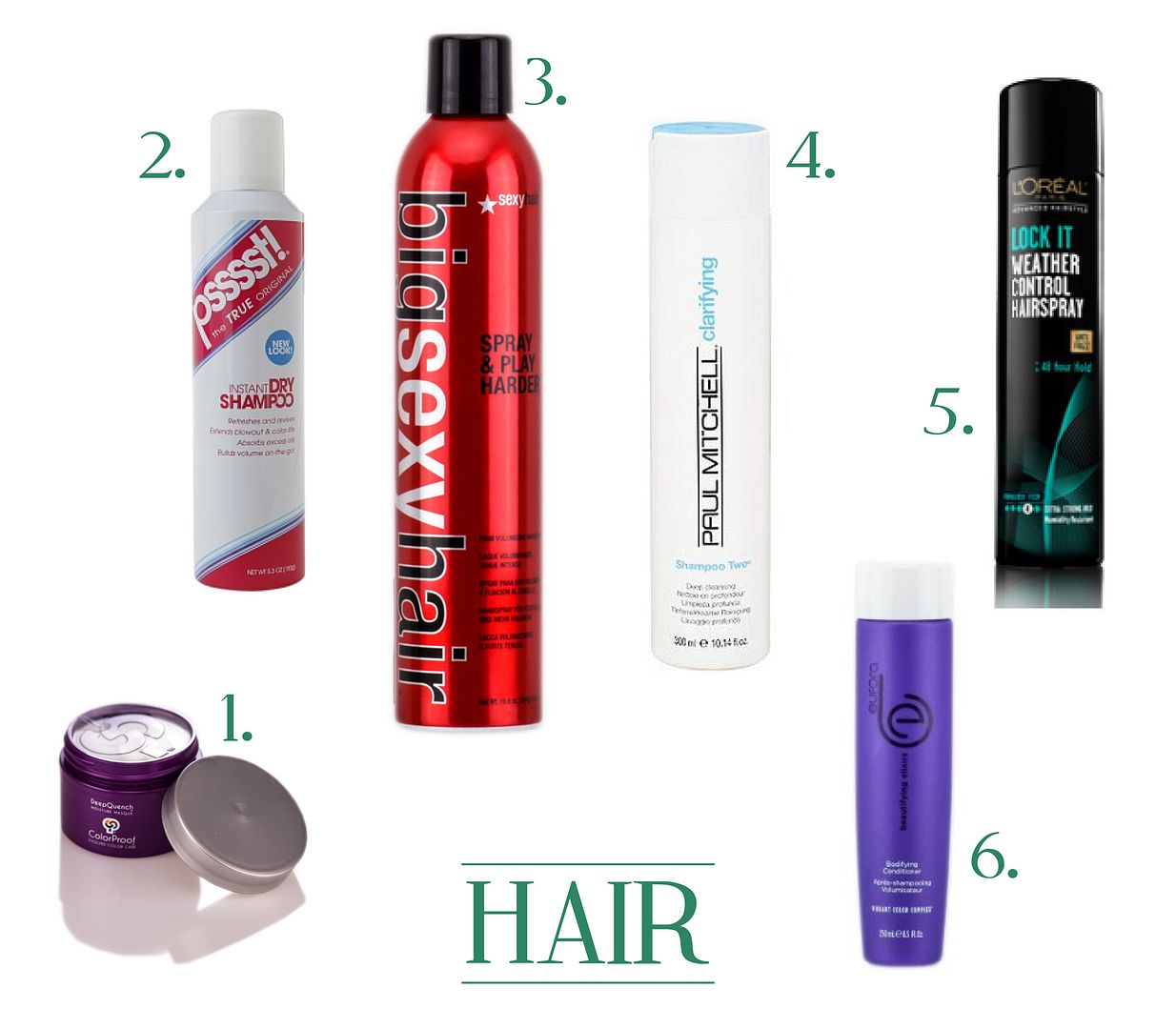 1. Deep Quench Moisture Masque
- Color Proof Sample
I loved this mask! It really made my hair feel moisturized without leaving it super heavy and greasy. I am on the lookout for it in a store or online to buy a full sized jar.
2. Psssst! Instant dry shampoo
This dry shampoo is one of the good ones. The price point is just right and it soaks up the grease really well. Plus I like that it is just a powdery scent instead of something overwhelming. Makes me feel refreshed.
3. Sexy Hair Spray & Play Harder
This is our favorite hairspray. I say our because Nate uses it too. He notices the difference between this and other brands so you know they are doing something right. We will always repurchase this, but I am just waiting for the good sale on it at Ulta.
4. Paul Mitchell Clarifying Shampoo Two
Yup, no way will I be buying this again. I don't know if it was because I bought it at Meijer instead of a salon and it got watered down or what, but it was really watery and smelled like straight lemon Pine Sol. Not what you want to be putting on your head. I got it because I like shampooing with a clarifying shampoo before I use my purple shampoo, but I had to use a ton of this to get a lather (mostly because most of it fell out of my hand before I could get it to my head). Not a winner, sorry Paul.
5. L'oreal Lock It Fine control hairspray
I used this to hold my curls in place right after releasing them from the barrel. It has just enough hold to help them set, but is still workable for when I go to brush them out and finish styling. It isn't holy grail though so I am still trying new things.
6. eufora Bodifying Conditioner
I love this conditioner, really. The packaging is heaven first of all and makes it really easy to use. It is lightweight and really made my hair feel nourished. When I don't have to use a handful of a product to make my hair feel soft it is always a win. Thank you Pin Up Curls for sharing this one with me!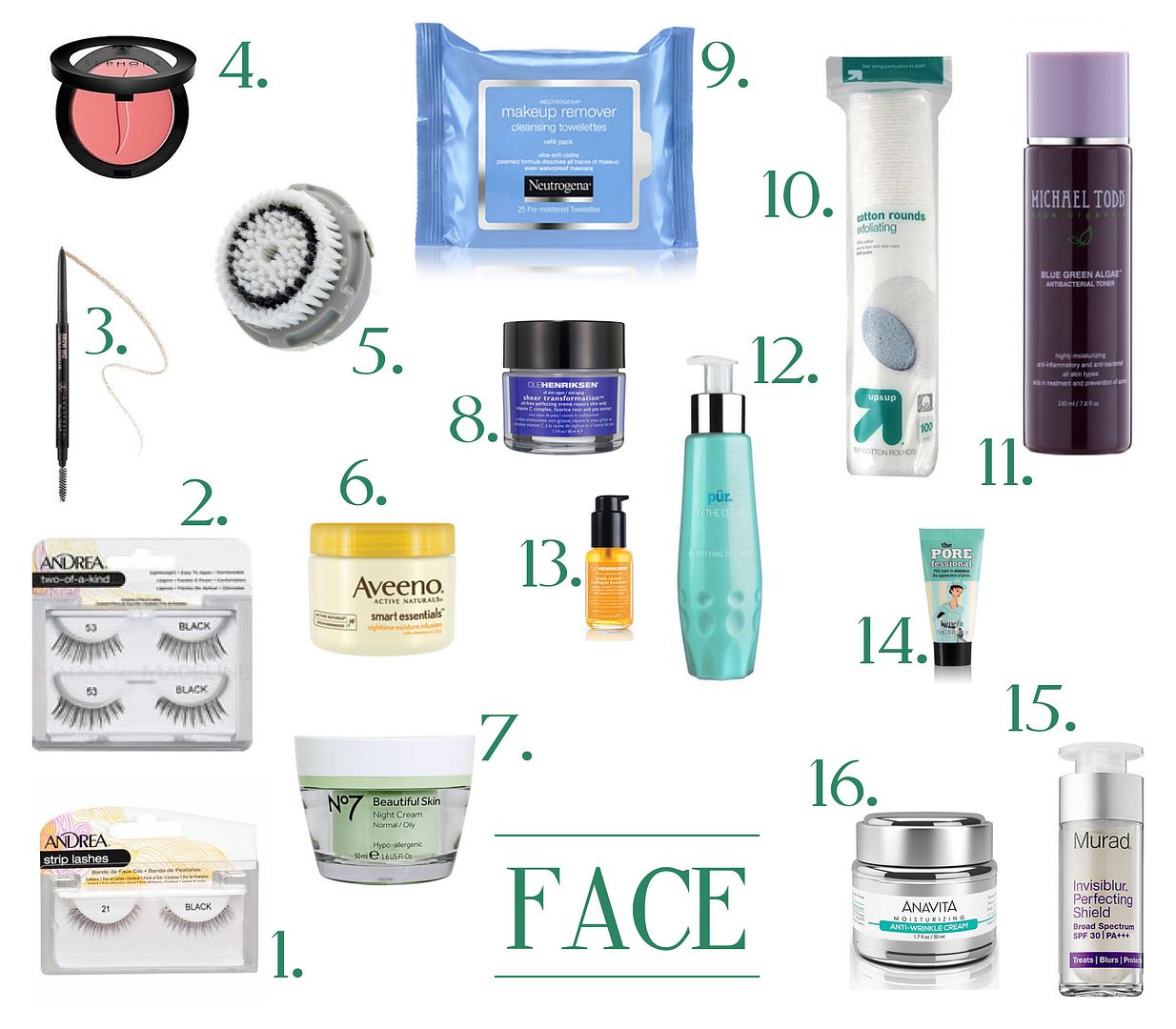 1.
Andrea Lashes in 21 Black
These are a great starter pair of lashes. Now they are not quite enough for me, but I will always keep some on hand in case a friend needs a little lash help.
2.
Andrea lashes (double pack) 53 black
Same for these, great lashes, just not quite enough for me any more. I love Andrea lashes though. The quality is great and the price is even better.
3.
Anastasia Beverly Hills Brow Wiz in Medium Brown
I love me my brow wiz, but I am leaning toward the pomade now instead. I may go back and get another brow wiz to help fill in a couple of spots that are really bare. For a first brow product though this stuff is worth the money.
4.
Sephora blush
in romantic rose (didn't finish - busted)
I am pretty sure this was my first blush I bough in college. That being said, I should have pitched it a long time ago. The color is gorgeous though and I love using Sephora brand products when possible because they really do make some good ones. I see a new Sephora blush in my future, what color should I get...
5.
Clarisonic brush head
I love my Clarisonic. This was the original brush head that came with the brush and the bristles just finally showed signs of wear. I have already bought a new one (the deep pore brush) and am still using it every other night. Worth the investment to me.
6. Aveeno Active Naturals Smart Essentials nighttime moisture infusion with vitamin a c and e
I already got a second jar of this guy. It isn't holy grail, but it is the best I have found so far. It really makes my skin feel nourished without making me super oily. Plus the added vitamins are great too.
7.
No7 Beautiful Skin Night Cream normal/oily
I like this one a lot. The only reason I didn't get it again is because of convenience for buying it. It is super light weight and moisturizes my skin without making it feel greasy or over saturated. If only Target/Ulta weren't so far away.
8.
OleH
enricksen sheer transformation
Favorite moisturizer to date. I keep lucking out and getting it as a sample with my Sephora orders so I haven't had to buy a full jar of it yet, but it is really the best face moisturizer I have tried. Light weight, doesn't make me greasy, doesn't break me out. It also covers a lot of face with a little product which is always nice.
9.
Neutrogena Makeup Remover cleansing towelettes
I dare you to find a wipe I like more. These towelettes do the trick every time. Remove eye makeup and makeup in general without burning my face off or tugging really hard.
10. Up and UP cotton rounds exfoliating
These little guys are used every morning when I apply toner. I keep like three backups at all times.
11. Michael Todd Blue Green Algae Antibacterial toner
I am in love with this toner. It seriously is one of the first things that I was using when I started to notice a positive change in my skin. It doesn't burn and it really makes your skin feel fresh and clean. I buy a backup bottle as soon as my current one starts feeling a little light.
12. pur In the Clear Clarifying cleanser
I really liked this cleanser. So much so that I thought I was going to go and buy a second bottle of it. Then I found a different cleanser at home to use in the meantime and ended up falling in love with it all over again. This guy may get purchased again in the future, but for now it is just on the "it's good" list. If you want a really good, natural cleanser though it is a good one.


13.
OleHenricksen Truth Serum Collagen booster
Love this stuff. I was using this with my Sheer Transformation and loved how my skin was looking. If only I could explain to Nate why it is necessary to spend over $100 on two products...
14.
Benefit PoreFessional
sample
I've got to say, I am not sold on this anymore. I have been using a different primer that is working better for me than the PoreFessional did so for now I will not be repurchasing.
15.
Murad Invisiblur Perfecting Shield
Sample
I want to give this a second try with a bigger sample. I love Murad products and I really wanted to love this, but the sample size just wasn't enough to be able to tell if it was worth the full size purchase.
16. Anavita moisturizing anti-wrinkle cream (didn't finish it)
I really liked this at first, but then it just started begin too thick. Maybe if I would have used it every second or third night instead of every night it would have been better, but I didn't and it started to clog up my pores a bit.
And that is that. 31 products over three months all with baby sized reviews for you. Hopefully you found some new products to try out or realized something wasn't for you before you bought it. My plan is to do this a little more frequently so that I can do a more in depth review of the product and not cram so many into one post. Sound good?
Thanks for stopping by!