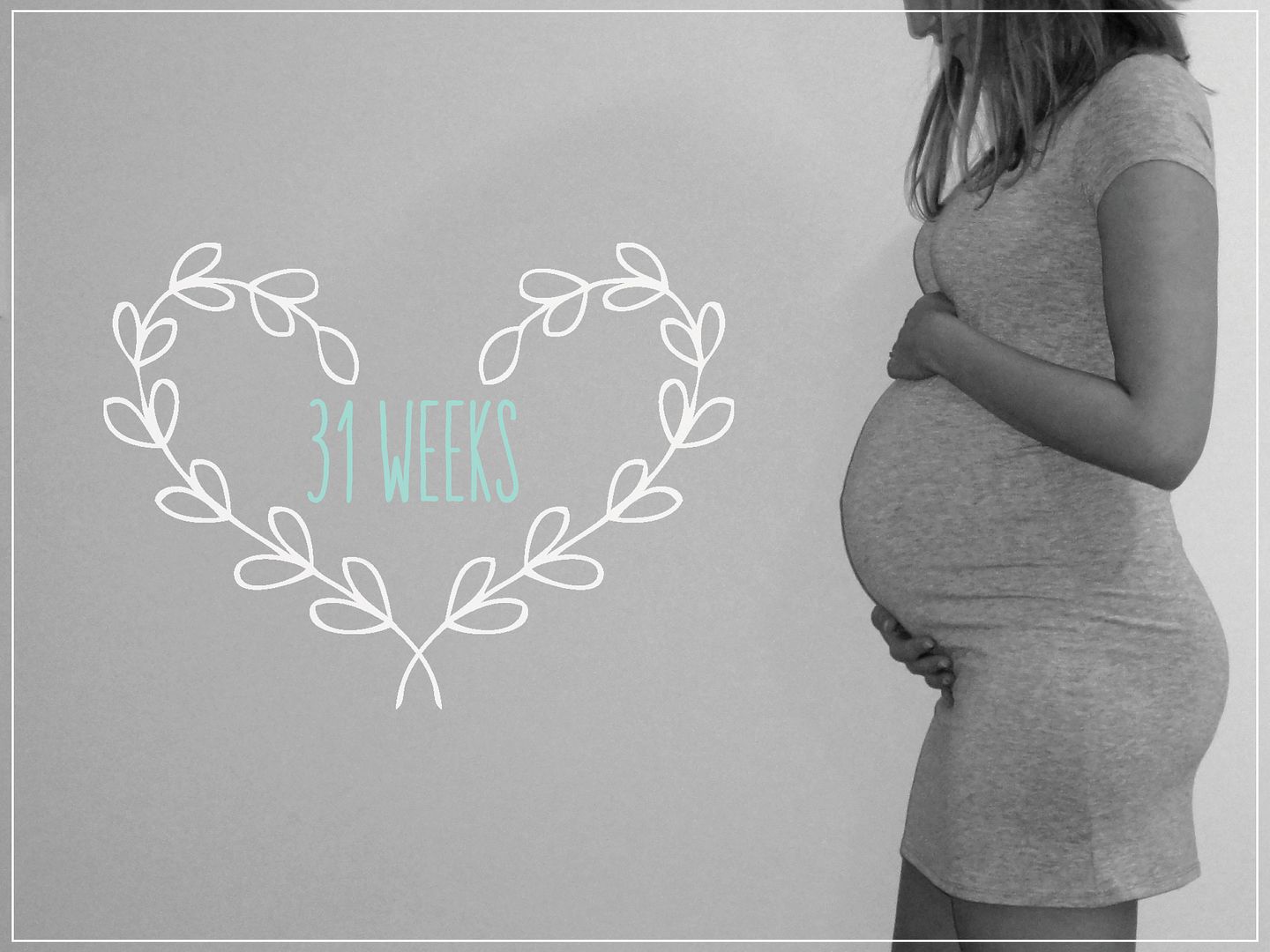 [How far along]
31 Weeks! We are almost to the 60 day mark and I truly am in shock.
[Size of the baby]
Leighton is about 16.2 inches and 3.3 pounds if he is following the average growth of a baby. This would make him the size of a bunch of asparagus or a pineapple!
[Weight Gain]
Just over 26 pounds now, and I have 9 more weeks to go. That being said, my phone says it is above average, but I will be right at 30-35 pounds gain if I keep going how I am between now and the end of this and that is normal from what I have read.


[Symptoms]
You know, the standard. Out of breath, occasional Braxton Hicks contractions, lots of bathroom trips, and problems sleeping. My nails have started to get a bit dry, but that could be the weather or my polish remover too. I haven't noticed any boob leakage yet and I am really trying to keep my posture in check to keep the back pain away. Overall, I still love being pregnant and am overjoyed with how this pregnancy is going. Thank you Lord!


[Gender]
We are having a little boy! The reveal story is
here
.
[Nursery Update]
It is looking more and more like a little one is coming! We finally got a lamp for his room that isn't filled with wine corks


[Craving]
Um, I have been smelling marshmallows everywhere I go. Does that count?
[Projects]
Storage solutions
Organization Ideas for closet
Art/pictures on wall
Heartbeat print
"bearskin" rug?
Fairy moss jars
Peter Pan Hat
Dream Catcher
Lost Boys Blocks

Well, I added some and started some, but have finished none. Still planning a trip to JoAnn's to get supplies for some of these projects. The heartbeat print is almost done, I am still messing with it a bit, but it looks so cool!


[Random]
Baby boy has had the hiccups a couple of times this week and that always feels a little funny. Nate finally was able to feel him kicking and was able to "play" with him a bit (tapping and kicking back and forth). Pretty sure it ever so slightly creeped him out, but now at least he has felt what I feel all day long. It was the first time he really was able to touch my stomach without Leighton going completely still once he did!

Also, as we have been putting away shower gifts we have been trying everything out (obviously) and I am amazed at some of the things these gadgets can do. It is so nice to see baby things popping up around the house, it keeps him top of mind no matter what we are doing and I love it!

Finally, I keep having the same thought about when he will decide to make his appearance and I keep going back to Christmas day. Seriously, I just have this feeling that he won't come on time, I will get induced on Christmas Eve and labor until Christmas Day. Can't help it, I am convinced it will happen. We will see though won't we?