Honestly, as soon as we found out we were pregnant, I started to think about how to decorate a nursery. A theme popped up constantly - Neverland - and it has stuck true to today. I never wanted it to be an in your face them with pictures of peter pan everywhere, but I wanted little pieces that connected back to a general grouping of people (fairies/mermaids/Indians for a girl and the lost boys for a boy). Once we found out what we were having, you can see that reveal here, I went full force with a little Lost Boy's/Neverland inspired room. It is finally completely done and ready to share so enjoy the pictures below!
A lot of the items in the room were inspired by things I saw online (Etsy, Pinterest, other stores) but thought were crazy expensive. However, instead of paying a ridiculous amount for these things I fell in love with I decided to make them myself so they would fit my design perfectly. Among these things was a dream catcher. I had stumbled on a few on Instagram and loved the whimsy of them so I took the silhouettes from our shower of Peter, Wendy and the boys and gathered my crafting items and went to work. I think it turned out pretty neat for my first ever dream catcher.
The side table for the glider (a Wayfair purchase) was inspired by a nursery I saw on Pinterest and thankfully I have the world's most amazing Grandpa who took a tree stump from his pile and cleaned it up for me. Nate stained it to match the rest of the room and I think it looks perfect. Also Pinterest inspired was the "compass" on the wood circle hanging above the table. I drew it out and hand painted it. Obviously I am biased, but I love how it turned out.
The blue canvas art above the chair was a special addition that my little sister made for me based on a poster we found on Etsy.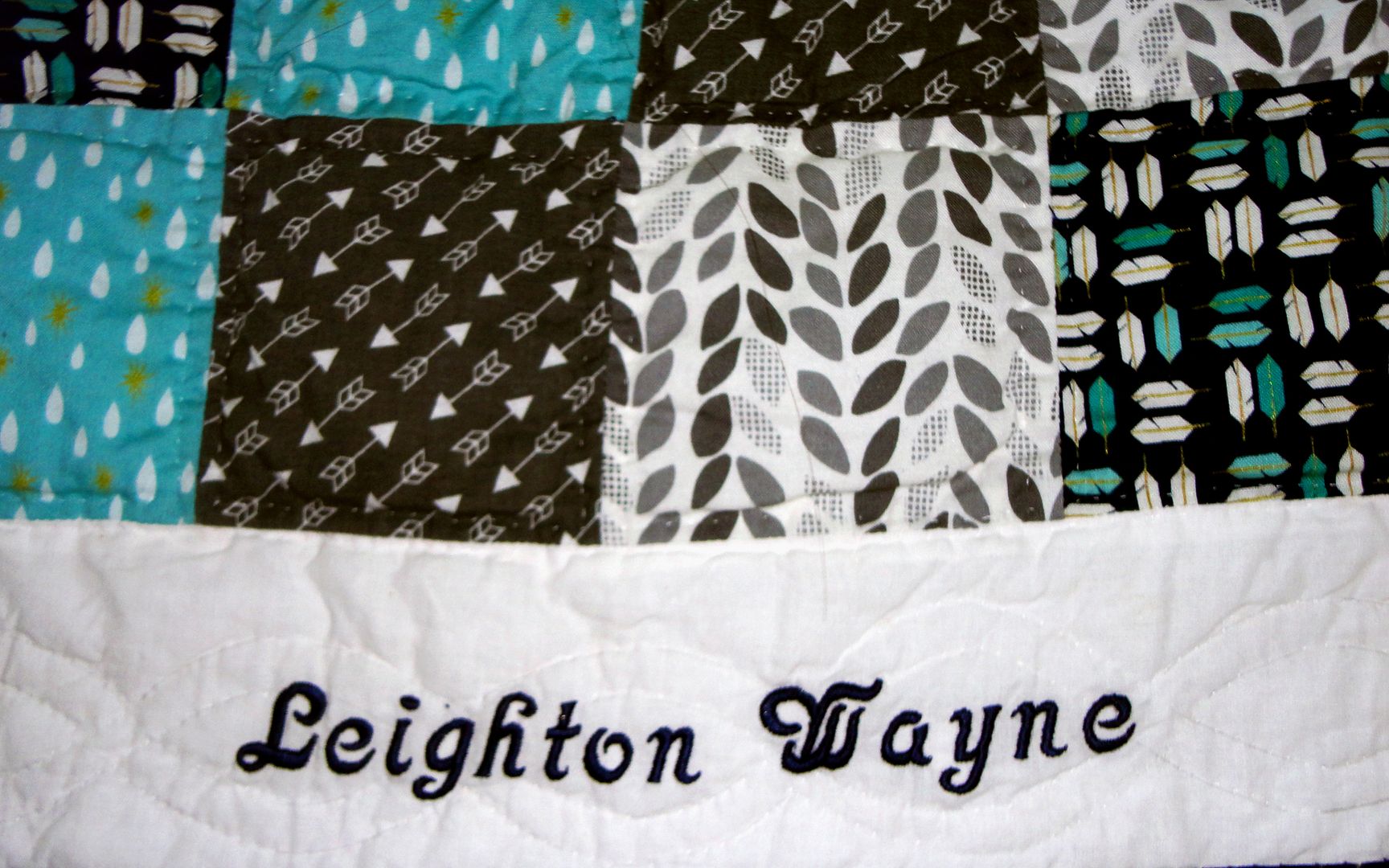 Among all the handmade things in the room, the quilt hanging on the glider is one of the most special. My Nana hand quilted it for Leighton with the material she used to make the rest of the bedding. It is so special and will be treasured for sure.
The watercolor picture of the Lost Boys is one of my favorite purchased items. Mom found it on Etsy and got it as decoration for my shower. It is such a nice calm touch that brings the Lost Boys into it without being too bold. The jar of kisses by it has thimbles that my mom and sister found and the pixie dust jar is filled with baby powder.
Another special touch from my amazing grandparents (this time my Opa) is the Peter and Wendy book that I have framed by the map of Neverland. I am in love with this little detail. All the pieces that have been brought in from my grandparents are so special to me. It just shows how much love there is for this little boy already.
The changing table is the desk that my mom used for us as little ones, and Nate made a new changing table top for it since the original one disappeared over the last 24 years. That basket underneath that I am using as a hamper is from Wal-Mart and the changing pad cover is from Buy Buy Baby.
Some of the first projects I tackled were these designs. I made sure when we got our ultrasound at 19 weeks that we got a snapshot of the heartbeat. Then I took that and made the print above. Later I made the three Peter Pan prints and we framed all of them and have them hanging around the nursery.
The navy "Love you to the moon..." frame was a gift from high school that we refinished and put an ultrasound picture in for now. The picture of Big Ben was from Unsplash I think and I attached that to a piece of wood and distressed it a bit. I made the "L" by attaching moss to a wooden L that we bought from Jo-Ann's. And finally, the wood blocks were another custom made piece by yours truly. I made simple versions of each character and added them to the wooden blocks for a cute little touch of the full cast.
Like I said earlier, my Nana made the bedding for the crib. The crib itself was a DIY project that Nate did an amazing job on. Nate's parents stumbled upon the crib and we refinished it to be a little more updated.
Anyway, that is the room. We are so excited for Leighton to come home and be able to enjoy the room with us (even though he will really care less at this point in his life obviously). My Pinterest board is below that I used for inspiration in the room. If you would be interested in custom wooden blocks, dream catchers, hand painted wood art, or custom prints let me know in the comments below or email me (see the contact page). I am super interested in starting to do more of these crafting things, but can't decide if anyone would be interested.
[The Inspiration]
Thanks for stopping by!