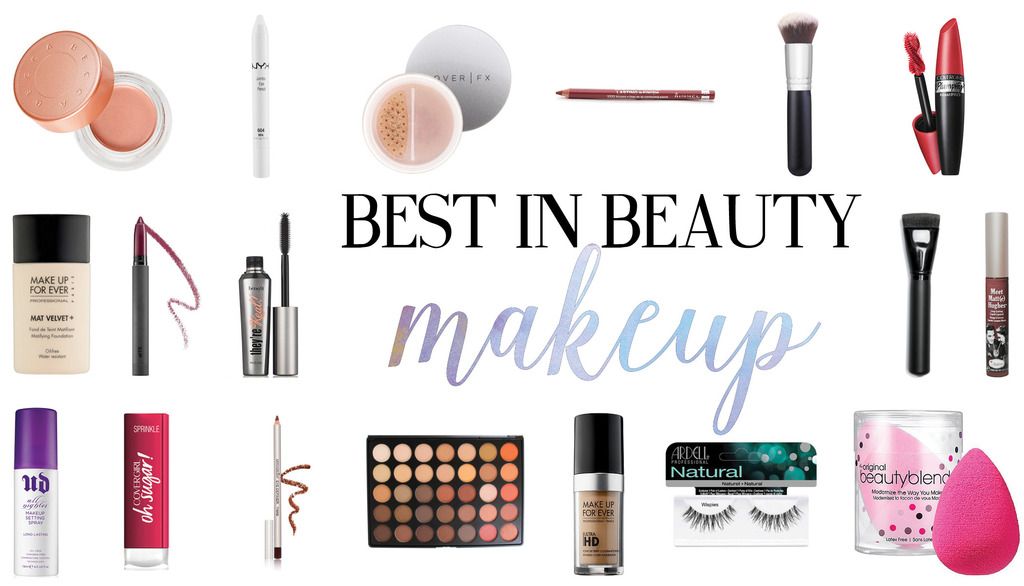 I try a lot of products. Nate will agree, I have a lot of beauty products at home. But honestly I do a ton of research before I buy. I don't see a point in trying something if other people with oily/combo skin have tried it and it has failed. So really, it could be a lot worse.
Knowing that reviews and other people's experiences with products helps me out a ton, I figured I would share my favorite products from 2015 that I just can't stop using. Really though, if I am going to be doing my makeup (any amount) I guarantee that I will be using at least 4 of the things below. Anyway, here are my thoughts on this chunk of favorite things!
Hello holy grail foundation brush. I seriously can't put into words how perfect this brush is. It is packed full of bristles so your foundation goes on so smoothly every time. I have used it with thick, thin and in the middle consistency foundations and I haven't had a bad experience with any of them. It is my go to.
This is a miracle worker for me. I don't have puffiness under my eyes, but I do have dark circles (no matter how much sleep I get). The corrector is a salmon color and has a shimmer to it. The pinkness cancels out the blue tones from my circles and the shimmer reflects light which makes the whole area look brighter. I use this under another concealer to help out the eye situation and I swear by it.
So there is a lot of hype with these guys, and even it if makes me a follower I agree with the hype. I've bought two and am about to buy a third and retire my first one. Like any sponge it absorbs the product and oil/dirt/etc from your face, so you have to wash/sanitize it regularly. You can see how to clean it
here
. Mostly I use this to blend out my concealer and highlight, but when I want lighter coverage with my foundation in the summer I use it for that too. It is a multi use tool that I am always reaching for. Always.
I picked this up this past summer when I was beefing up my makeup collection before the summer weddings I was in and doing makeup for. After chatting with a guy at Sephora about what he suggested for a good mattifying powder setting powder with no flashback would be, I took the bait and shelled out a little more than I was planning on for this stuff. Honestly it was one of my best purchases that summer. I set my t-zone with this and never feel like my face gets cakey. Also it really does help to keep me matte (I use a few different things). I haven't noticed any flashback at all with it either so that alone is a win for a setting powder.
I love this foundation. This was one time that I didn't listen to all of the reviews I read necessarily. Some people with oily/combo skin love it and some hate it. I am a lover. I haven't noticed this foundation breaking up on me or my face getting oily any more than my other foundations. Honestly, I think my skin does better with it.
Another winner from MUFE. This one has matte in the product description so I went in with the hopes that it did keep me matte. It is the perfect finish for me. The finish is truly velvety and natural looking. Plus it stays put and my t-zone stays looking nice so you can't beat that. The only issue with this one I have is the amount you get for the cost. It is a bit pricey (Nate would not be impressed by the cost per ounce, but I justify it for myself. Whoops.
This was a Christmas present so I haven't had it a crazy long time, but so far it is perfect. Before I got this brush I was using the brush that came with my
Hoola bronzer (by benefit)
when I contoured. It works really well, but I wanted something a little more dense feeling to get a more structured/precise contour. Beauty gurus on YouTube talk about the
NARS Ita
brush a lot, but although I can justify spending a lot on certain items I couldn't make sense of spending over $50 on a single brush when I had something else that worked. Then Morphe answered my prayers and made their MB30 brush and it is perfect. The price is great, like always, and the quality of the brush is just lovely. My contour game has taken a step up.
Thanks to another YouTuber,
Steph Willis
, this pencil was on my radar. Anytime I want a light eyelid or a more vibrant color to really pop I start with this as my base. Lately I have used it every time I have done eyeshadow at all because I have been keeping the lid nice and bright. It keeps my shadow's in place and the price is spot on. You can't argue a good NYX product.
This is a cult favorite if there ever was one. I was hesitant to even list it because it is always sold out (I know it is as I am writing this), but I couldn't do a list of my favorite products from last year without mentioning it. Search YouTube for Morphe 35O and you will see a lot of looks come up. When the results come up it will be Jaclyn Hill's face that you see first (well after the ads at least). I am almost one hundred percent sure that you can credit her with the popularity of this eye shadow palette. She is the reason I bought it if I am being 100% honest. That being said, the palette is perfect on its own anyway. It has the best mixture of finishes and the colors are just truly beautiful. If you are looking for a great (affordable) warm toned shadow palette look no further. Be on the lookout for a restock of this palette and snag yours as soon as you can.
The perfect lash at the perfect price. Plus being able to run by Sally's and grab them is great too. Unfortunately other people agree and sometimes I just can't find them in stock. When I do though I grab as many as I can. They are perfect for a natural looking glam eye (pretty sure that is an oxymoron).
This was a college find. I wanted something that would keep my makeup in place as I spent my life staying up way to late on the weekends. This did the trick and I still go back and buy it. Keeps my makeup looking fresh and doesn't mess anything up when I spray it on.
I was sent a sample size of this lipstick in my Ipsy bag one time (sign up for your own ipsy bag
here
). I put it on once and immediately went to Kohl's and bought a full size of another shade. Both shades have gotten a lot of use (I have Committed and Charming). I wore it to my bridal shower and my sister and cousins all put it on that day. You can't be mad about a lipstick that stays in place after eating and drinking. Really, you just can't. (Bonus: it smells like vanilla)
This is another long wearing lip product. This one I wore in two weddings this summer and is one of my regular go-to's throughout a week ( I own Aubergine and Leche). It dries matte and smells like citrus. The packaging is really nice too if that is a selling point for you.
As I got more into lip products I started to want to stock up on liners as well. Again I was having a hard time justifying spending a lot on a pencil so I decided to try some cheaper ones first. I bought a Rimmel liner and swatched it on my hand before using it on my lips ever. That day I washed my hands several times and did dishes and to my surprise that liner was still hanging on there. Longevity is everything.
Again, this is a product that I keep going back to. I don't have hooded eyelids, but my lashes do hit my brow bone area and that was always an issue when picking a mascara. My rule was to always buy waterproof, but even that didn't do the trick sometimes. I decided to give this one a try (again paying a little more in hopes of better quality) and praise Jesus, it worked. Nothing else compares. I layer this on top of another mascara to really give my lashes a boost, and the dreaded mascara transfer no longer is an issue for me.
Once again, I head about this one from a YouTuber (this time
Alex Garza
). She used this pencil on her lower lash line to add definition without being too harsh. I loved how it looked on her and gave it a try. Currently I own it in three shades (Twig, Bronze and Smoke). Instead of black liner this is what I use, upper and lower lash lines. Also, before I was comfortable using eyeshadow to define my lower lash line I used this. It is super easy to work with and blends out really well. Lately I have really loved a smokey/blurred out look on my lids so this has been my go to.
As I mentioned earlier, I usually use my They're Real! mascara over another mascara. Well, this is that other mascara. Yup, you have heard Katy Perry talk about it on TV, but I got mine c/o Influenster to test out. Obviously if it is making it on this list I really liked it. The brush was super intimidating at first, but once I got used it I never thought twice about it again. I really can see a difference in my lashes when I use it. My natural lashes aren't all that impressive so if I am not wearing falsies I really want something that will make them pop. This works to do just that. A few coats and I am set (I set it in for a long day with They're Real! then like I mentioned since I wasn't sent the waterproof version).
When Influenster sent me the new Covergirl mascara, they also sent me the new lip balm. I was super, super pumped about this. I am a lip balm junkie, there is at least one in every room. This is one that will stay in the house, but it does get love. Unfortunately, I wasn't sent a shade that was super flattering to my skin tone right now (I am pale as can be) so I am not wearing it out of the house. Come summer though, or when I have time to self tan again, my lips will be rocking the bright shade they sent and I will not be sorry about it. Bright lips for life!
So there you have it. My favorite beauty products of 2015. Some are on constant repeat through the years and others are just joining my game, but they are all really great products if you ask me. At the beginning I said there were four that I really just never go without. Curious? I'll tell you. Here they are!
What are your HG products? I am always game to try something new!
Thanks for spending some time with me. As always these thoughts/reviews are one hundred percent my honest opinions. Some of them were gifted to me for testing purposes, but I would never lie and say I liked something when I didn't. We are real here. Always.
Up Next: Best in Skincare for 2015