And just like that we are back here again. In case you missed it, I posted my top 18 favorite makeup products in 2015 on Saturday. Go check it out
here
! Also, here is the recap of the weekend for the Blair family.
[Friday]
This was a shopping day, and it was glorious. I had a list of things that I needed for Saturday (I did a trial run for a lovely lady's wedding makeup) so I bundled up the little man, picked up a friend and headed for the mall. Hours later, we headed back to town with our loot. Two pizzas and two orders of bread sticks were the perfect dinner and eventually we called it a night.
Side note, part of my Sephora haul from Friday night was a travel size of
Benefit PoreFessional
. Let me just say that this is the first time I have actually bought this since it came out. When I got my first tube of it (well several tubes), I had gotten a party pack of samples from Benefit and that held me over for a while. After that I always was able to grab them as a 100 point perk. Anyway, I actually thought that little baby sized tube was the travel size, so that is always why I got them as a perk. When I grabbed that actual travel size tube and opened it to see how big it really is I was shocked. Yup, not sure why I didn't do that sooner. Lesson learned.
[Saturday]
First of all, I woke up at 6:30 and looked at the clock and almost screamed in excitement. Why? Because Leighton was still asleep. Yup, on February 6 Nate and I got a full night of sleep. Leighton ended up sleeping for seven hours and twenty minutes.We actually think he would have slept longer but we had to get him up so we could head to my brother's wrestling regional match. It was unfortunately a quick day for him, but he has two more years to kick butt. Until then, he knows that he had the cutest little fan that day cheering for him.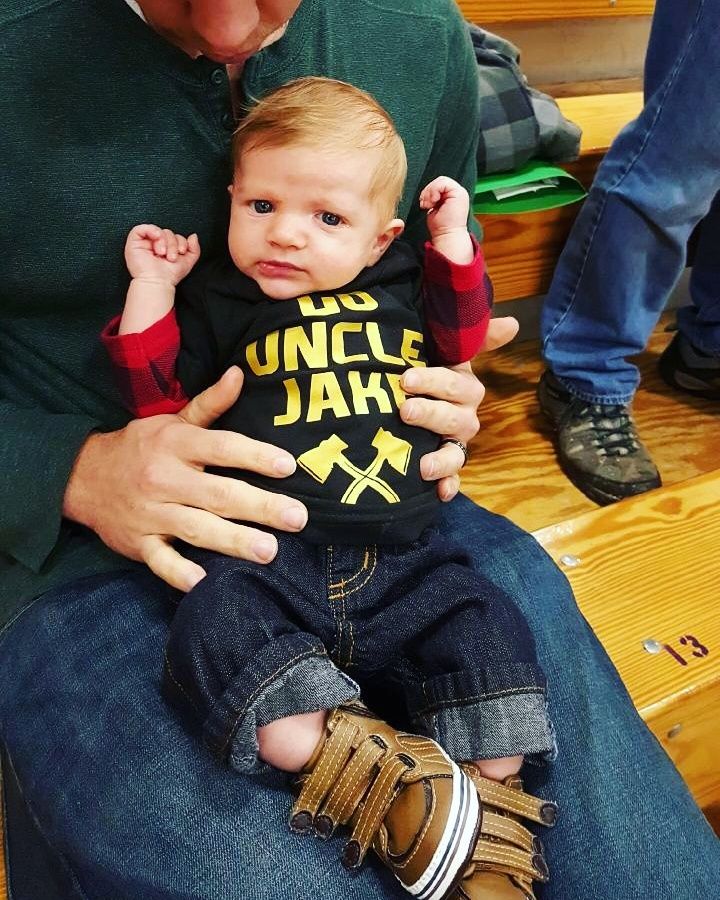 That afternoon I did a makeup trial run for a bride, and then Nate and I cleaned the house to get ready for Sunday. It was a busy day and we were exhausted.
[Sunday]
We finished cleaning our house first of all. Then we decided to enjoy the warm February weather by going on a walk. If only the wind wouldn't have been blowing, it would have been perfect. We got a mile in before calling it quits. When we got back we started food and got ourselves ready for the evening.
I was extremely happy with the ending of the Superbowl. Yay Payton! However, I was disappointed with the commercials. Don't deprive me of my puppies Budweiser. Just rude. Since there was no puppy/Clydesdale love this year, my favorite commercial was the Honda truck one with the sheep.
Also, the Doritos commercial that won this year was created by a fellow Franklin College grad. Cool right?
And that was the weekend. Flew by just as fast as ever.
Happy Monday loves!
and keep up with my blog by following me on Bloglovin' and liking my page on
Facebook
!